Arby's 2 for $5 Deal: Arby's Sandwich Restaurant chain is one of the most popular fast-food chains in America. Arby's is famous for its wide range of sandwiches both veg and non-veg.
They also bring many offers and discount value especially for you. If you have not yet tasted Arby's famous snacks, get ready this evening.
Because the deal we are going to talk about will blow your mind. It is the best among Arby's many discounts – the super saving 2 for $5 deal!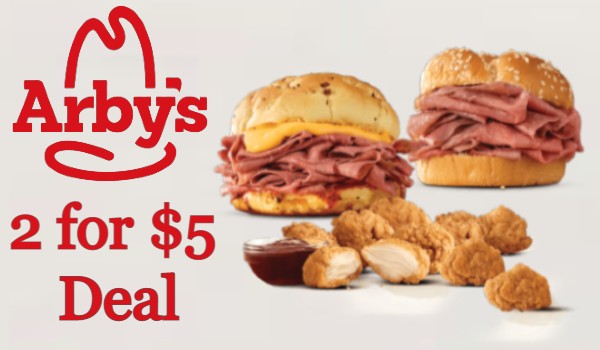 In this article, we will be telling you all about this fabulous deal of the Arby's including the items, quality, size, taste, ingredients, customer reviews, and many more.
If you are a regular customer and did not know about this mouth-watering deal, then what are you waiting for! Grab a pen and a paper and note down everything about your next order for your next visit to the Arby's.
The food tastes better every time you have to spend less from your wallet if you too agree then go on!
Arby's 2 for $5 | Deal Specials
Arby's two for five is the best offer that they are currently giving away. A platter full of tasty and filling snacks in just 5 dollars seems unbelievable.
The latest change in this deal has brought forth new items as options. It is perfect if you want to give a small treat to your friends but your budget is limited or if you are craving a good plate of snacks, both tasty and filling, but you are left with just a few pence in your pocket.
What is on the 2 for $5 Menu at Arby's?
The customers can choose any two items from the drop-down menu given here-
Classic Beef 'N Cheddar Sandwich

Classic Regular Roast Beef Sandwich

Crispy Fish Sandwich

Mozzarella Sticks (4 pieces)

White Cheddar Mac 'N Cheese
The Mozzarella stick and the white cheddar mac N cheese are the two latest additions to the list of 2 for $5 Mix and Match deals.
Beef and cheddar– Roasted Beef, Onion, Red Ranch, Cheddar Sauce make the heavenly combination.
Classic roasted beef – the traditional taste of slices of roasted beef inside the sesame seed bun.
Crispy Fish Sandwich –a crispy-fried, wild-caught Alaskan pollock fish filet, shredded iceberg lettuce, and tartar sauce on a toasted sesame seed bun. 
White Cheddar Mac 'N Cheese – Creamy and smooth white cheddar mac & cheese made with elbow macaroni.
Mozzarella sticks – Four stretchy sticks of mozzarella battered and deep-fried; along with the marinara sauce.
You can choose any 2 from the above. All the options are for a limited time and can be different restaurant-wise.
Tax will be added at the specified price. These options can vary from restaurant to restaurant. You can visit the official website of Arby's to find out the nearest Arby's outlet in your locality.
These deals are only available in the participating restaurant.
Customer Review:
The reaction of the customers is quite impressive. Arby's brings many discounts for the customers every year and 2 for $5 is one of the worthy ones.
Many people order this every day. You should not miss this deal.
We hope, this article will be able to make your mind to order a 2 for $5 next time you visit the Arby's.
The burgers and other side snacks items on the 2 for $5 menu will cost around 3 dollars itself if bought individually.
The 'Mix and Match' deal brings 2 such items on your platter in just 5 dollars. So, you must hurry and grab this deal before it ends.
For any further details and to know more about the other deals available, you should visit their official website.