Cracker Barrel Breakfast Menu: Cracker Barrel, besides being a well-known American restaurant offering both Southern food and exciting gifts to its customers, is also known for treating its customers well.
Cracker Barrel comes with a rich variety of foods. The hours dedicated to serving breakfast to the customers varies over the week.
The breakfast hours in most of the outlets of Cracker Barrel are as follows:-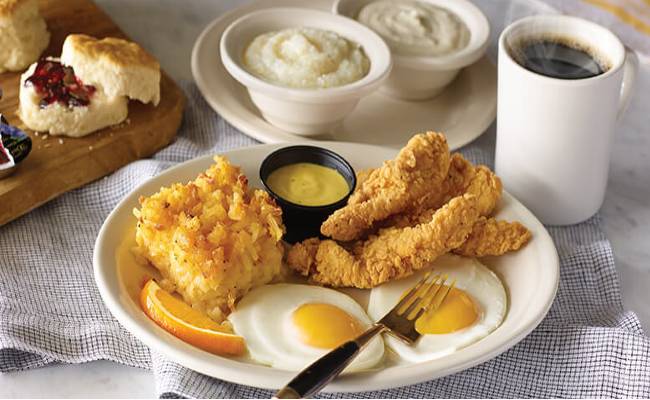 Monday to Thursday from 6 a.m. to 10 p.m.
Friday to Saturday 6 a.m. to 11 p.m.
On Sundays, 6 a.m. to 10 p.m.
Does Cracker Barrel Serve Breakfast All-day Menu?
It is quite evident from the above information that Cracker Barrel is a place where you can enjoy your breakfast menu even in the afternoon or at night. Yes, you heard it right! This is quite rare and unique.
Cracker Barrel's popularity is overwhelming. Customers wait for their turn to enjoy their meal at Cracker Barrel.
Maybe this is the reason why Cracker Barrel aims at satisfying the customers with the breakfast menu throughout their time of operation.
You can walk in at the restaurant at any time of the day and have your desired item from the breakfast menu.
Cracker Barrel Breakfast Menu
Cracker Barrel has a unique combination of food items all of which are mouth-watering. There are four broad categories of food served to the customers.
The four categories include different food items, the details of which are listed below:-
Traditional favorites:- This category provides you with an option of eight delicious items:-
Old Timer's Breakfast
Sunrise Sampler
Grandpa's County Fried Breakfast
The Cracker Barrel's Country Boy Breakfast
Smokehouse Breakfast
Cracker Barrel's County Morning Breakfast
Double Meat Breakfast
Uncle Herschel's Favourite
All these food items contain two or three fresh farm eggs along with other sides such as sliced bacon, sausage, sawmill gravy, buttermilk biscuits, fried apples, hash brown, etc.
Pancakes N' Such – This section is solely dedicated to a variety of pancakes and other similar food items. The five different varieties are:-
Grandma's Sampler
Momma's Pancake Breakfast
Buttermilk's Pancakes
Momma's French toast  Breakfast
French Toast
These items are something that your mother might make for breakfast at home.
But what if you are away from your home or traveling early in the morning to work, skipping breakfast? Cracker Barrel brings to you your desired breakfast on your way to work.
They use quality bread, sausages, eggs, bacon, butter, and 100% pure natural syrup to enhance the overall taste.
Their aim is not only to provide a healthy breakfast but also to give you an impression of homemade breakfast.
Sunrise Special-If you wish to have a tasty breakfast, you can always walk into Cracker Barrel and choose any item out of 3 of these categories.
Egg Sandwich
Meat Biscuits n' Hashbrowns or Fried Apples
Biscuits and gravy with Bacon or Sausage
Cracker Barrel uses the best quality products. They use Sourdough bread for the sandwiches, hand-rolled buttermilk biscuits, hash brown casserole, and special Sawmill gravy in the dishes.
Beverages--You can have any kind of beverage you want along with your breakfast.
Coffee and Hot tea
Juices include orange, apple, grapefruit, and tomato juice.
Other beverages such as hot chocolate, beer, skimmed milk, soda, regular soft drinks, etc.
Crafted Soda by Blue Sky
Iced tea and lemonade
What Time does Cracker Barrel Stop Serving Breakfast?
You have the privilege to enjoy the breakfast menu all day long in Cracker Barrel. It might sound odd though.
The items on the breakfast menu are available as long as Cracker Barrel remains open which makes us say all-day-long breakfast hours.
| | | |
| --- | --- | --- |
| Week of the Day | Serving Time | Closing Time |
| Monday to Thursday | 6:00 a.m. | 10:00 p.m. |
| Friday to Saturday | 6:00 a.m. | 11:00 p.m. |
| Sunday | 6:00 a.m. | 10:00 p.m. |
When does Cracker Barrel Start Serving Lunch?
The breakfast hours run alongside the lunch hours. The lunch hour starts at 11 a.m.
You are thus, provided with many more alternatives to choose from as you have the items from the breakfast menu and the lunch menu which lasts till 10 p.m or 11 p.m.