Who is not a fan of KFC chicken! And besides the juicy and crunchy chicken wings, KFC has many other delectable items on their menu you will love to pounce upon. And if the deal is of 3 dollars only, then there is no way you should miss. Can't you believe your own eyes? Well, be ready. We are here with good news for you. KFC is bringing back its customers' favorite best ever deal, 'KFC Famous Bowl' worth $3 only. Yes, you have heard right, it is just $3.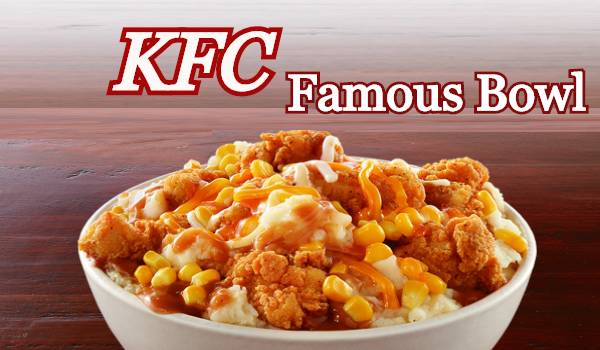 In this article, we are going to inform you about this fabulous mouth-watering and penny-saving deal of KFC famous bowls. After reading this article you will definitely want to order one for you. Take a look and get to know all the variations and ingredients and combinations that KFC is offering in its Famous bowl give out.
What is KFC Famous Bowl?
Kentucky Fried Chicken (KFC) has brought back in the menu its customer favorite famous bowl. It consists of creamy mashed potatoes, sweet corn, crispy popcorn chicken, and a home-style gravy sprinkled with specially blended cheese – all in one bowl.
Basically, in $3, you will get a wholesome meal which is enough for your random snack's cravings. All the delicious flavours are there in a single container and that too in just 3 dollars is a prime deal.
KFC's famous bowl covers all four aspects of nutrition demand in the body – meat, dairy, grains and vegetables. If you consider every ingredient separately, they are all fresh and hygienic. The chicken nuggets are fried in a special oven. The potato and the gravy are also instantly cooked and served. KFC takes special care of foods' freshness. The chicken bites are smothered in a delicious gravy.
What are the Variations of KFC Famous Bowls?
KFC has brought choices and variations in their famous bowl menu. You can switch from the classic bowls to the various other flavoured bowls. All the bowls charge 3 dollars. You will get many types of combinations filled with different tastes and flavours without any extra added charge. The classic bowl contains normal ingredients like potato, corns, chicken bites, gravy, shredded cheese etc. You can also opt for the Spicy Bowl. It has the KFC special Nashville Hot sauce drizzled upon it.
The list does not end here.
KFC has some more options only for you. The famous bowl comes with a medium-sized drink (e.g. Pepsi) and a chocolate chip cookie.
Nutritional fact of KFC Famous Bowl (per bowl): One bowl contains sugar, protein, carbohydrates, calories and more. The exact measurement is – 730 calories, 34g of fat, and 83g of carbs per order.
KFC Famous Bowl is one of the favorite dishes of KFC customers. The review is quite up to the mark. So, if you have not tried it yet, you should order it once. The Famous Bowl is available in almost all KFC outlets worldwide. You can check the local menu on KFC's official website. For any further details, visit the same. We hope, that this article will help you to make your mind.