KFC chicken is the antidepressant pill for all of us. Since childhood, KFC is the one place that we always used to visit on our holidays.
For so many years Kentucky Fried Chicken is serving us with the best quality food and priceless happiness.
And once again KFC has brought a smile to the customers' faces by announcing the comeback of everyone's favorite KFC Chicken Littles. Yes! You heard that right.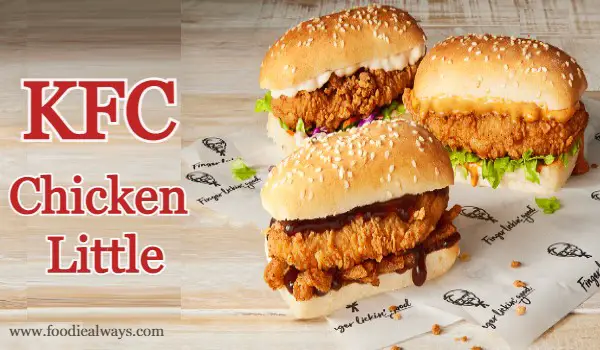 Rightly said in the name, KFC's chicken items are worldwide famous. And the crispy chicken bites in the KFC Chicken Little sliders were one of the most popular items of KFC back in time.
But for some reason, they stopped serving KFC Chicken Little. But the good news is KFC is brought back the Chicken Little Sandwich after almost 20 years.
If you are an old customer this is for sure a nostalgic touch to your taste buds. Well, before ordering right away, give a minute to read our article.
We are going to give you all the information about the new Chicken Littles, its taste, price, review and if it's better than the original one.
What Is KFC Chicken Little?
This is for the ones who have not yet tasted this mouth-watering snacks item of KFC. KFC Chicken Little is a small slider rather sandwich with a small crisply fried chicken piece in between.
Here is a detailed account of every bit and piece of KFC Chicken Little.
Bun: The new Chicken little Sandwich bun is a plain sesame seeds bun as it is in any other KFC sandwiches. The bun is nicely roasted on the top and roasted sesame seeds are sprinkled on it.
Chicken: The crispy chicken inside is freshly breaded and fried till crispy and golden brown outside and tenders inside. The chicken strip reminds me of the classic taste of KFC's fried chicken.
Mayonnaise: the chicken and the bun is accompanied by mayo's creamy flavor. It adds to the moist and gives a smooth and sweet touch to the chicken. If you want you can add KFC signature flavors at no additional cost: Georgia Gold Honey Mustard BBQ, Smoky Mountain BBQ, or Nashville Hot.
Pickle: The pickle added in the Chicken little, activated your sour buds and victory complements other ingredients.
Which Chicken Little is Better: The Original One or The New One?
KFC Chicken Little has a history attached to it. Customers were obsessed with the original 2000s version of this snacker.
It got so popular that the center of attraction deviated from KFC's main course, the Chicken Bucket and they stopped making KFC chicken little.
So there is a huge excitement brewing in the KFC lovers regarding the resurrection of the Chicken Little.
Now the question comes that which one is better? If you compare the new chicken little with the original one, there are a few things that are changed. according to some sources, the old version of the snacker was much more enjoyable.
It had shredded lettuce with crispy chicken pieces. And the bun was a square-shaped slider bun. Also, many reviews tell that the pickle that the new Chicken Little has in it, does not go well and it can't substitute the lettuce shreds.
Should you try the new KFC Chicken Little?
If you ask for our opinion, we will advise you to order chicken a little. It is always good to try new things.
Overall, the customer review is quite up to the mark. But if you have the older KFC chicken little imprinted in your mind, you will rather be dissatisfied.
Because KFC has reinvented and brought back Chicken Little in a new avatar. It is better to have it as an individual dish and you will love it.
Price and Offers:
The new KFC Chicken Little costs 1.49 dollars which is a good deal. KFC's famous 2 for $3 offer is available in Chicken Little.
You can order 2 chicken littles for just 3 bucks. Well, this value offer is available for a limited time. You can check the website before visiting. This offer may be there in some selected outlets and locations.
KFC Chicken Little is one of the favorite dishes of KFC customers. The review is quite up to the mark.
So, if you have not tried it yet, you should order it once. The chicken little is available in almost all the KFC outlets worldwide.
You can check the local menu on KFC's official website. For any further details, visit the same. We hope, that this article will help you with every possible query.