The value menu became more popular because it contains list of items which are available of less cost which makes to choose easily. The fast food restaurants are evaluated eventually with the value menus. The McDonald's dollar menu is the best choice for the fast food lovers.
The McDonald's dollar menu was originally introduced in past 2002 and again reintroduced with some changes like $1, $2,$3 menu in 2017.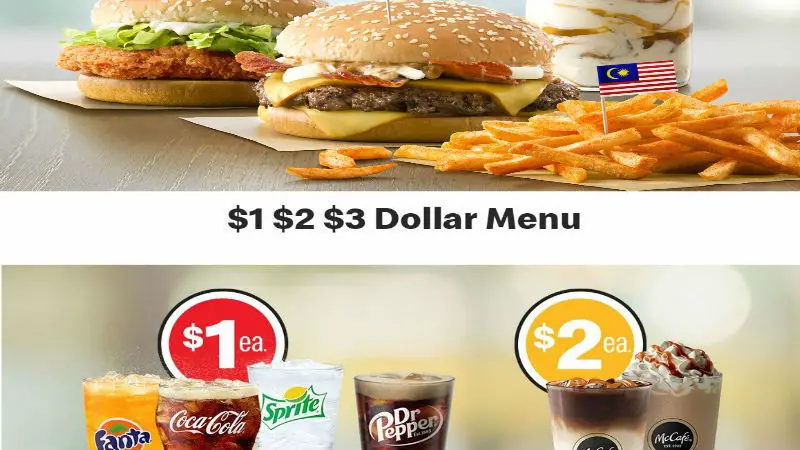 McDonald's became quite popular for selling almost all variety of fast food items. The Dollar menu has gained the fame because it contains French fries, cheeseburger, hamburgers, soft drinks, milkshakes and desserts.
Also Read:
McDonald's Secret Menu

McDonald's 2 for $5 Mix & Match Deal
McDonald's Dollar Menu
If you are the person that loves fast food and want to be maintain healthy diet then your choice must be the Dollars menu because it contains salads, smoothies, fruits, fish and breakfast items.
The McDonald's dollar menu has declared in three prices that are $1, $2, $3. The detail information about this Dollar menu are described below.
For $1:
McChicken

Cheeseburger

Sausage Burrito.

Any Size of Soft Drink
For $2:
2pc. Buttermilk Crispy Tenders.

Sausage McGriddles.

Small McCafé beverage and smoothie.

Bacon Mc Double
For $3:
The triple cheeseburger

Sausage McMuffin with egg

Classic chicken Sandwich

Happy meal
New Mix & Match Deal 2 for $ 5
McDonald's has been changing some changes to win the fast food restaurant competition, which brings value menus at budget prices.  View the latest McDonald's 2 for $5 Mix & Match Deal is popular at few locations. The 2 for $5 Mix & Match Deal features a select pair of the chain's favorites for 5 dollars. Menu availability may vary by location.
McDonald's Value Menu
If you are the person like to choose your favourites easily then you can consider dollar menu. In case, you are in hurry there is no time to order your food then the dollar menu is the best option. Because the it is easy to understand it makes quick and easy to order. The McDonald's Value Menu has rapid growth because it delivers with different varieties of items.
Mc Donald's has a wide range of restaurants and their menus with prices are different by restaurants. Selling food for small prices ($1, $2, $3) helps most people like students, employees etc to choose their choice of food easily. Well by the information provided can say that entire details of McDonald's dollar menu.
Hungry for More