To suffice your instant craving, running into Popeye's and grabbing Popeyes $5 Big Box is the right thing to do. Popeye's has gained much reputation and especially the various offers and Big Boxes offered has made it all the more desiring.
In the following sections, we would not only explain what Popeye's $5 big box is but also would educate you with a few more details about the variety of foods and deals offered at Popeye's.
Popeye's is an American fast-food chain famous for its delicious fried chicken, chicken biscuits, and sandwiches. Initially, Popeye's was named Popeye's Famous Fried Chicken & Biscuits.
You can now have the idea that if you are a chicken lover, Popeye's is the right place for your chicken cravings.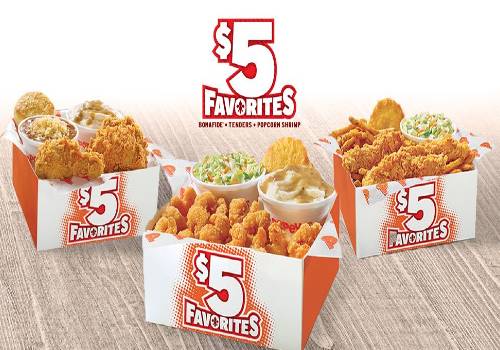 What is Popeyes $5 Box?
The Popeyes $5 Big Box, also known as the famous Popeye's $5 Bonafide Big Box is excessively popular as it never fails to suffice your hunger.
The box contains a full-sized meal and you won't be left hungry after having eaten all the contents of the box.
What Comes in Popeyes $5 Box?
You will be amazed to read about what does Popeye's $5 Big Box contains?. The amount of food Popeye's offers just at $5 is too exciting and pocket-saving. The contents of the box are hereby listed:-
There is an option between the two items. You either can have two pieces of Popeye's Bonafide fried Chicken or three handcrafted tenders.
The next thing in the box is two signature sides. You can choose your sides from among these- coleslaw, fries, mashed potatoes, cheese fries, or garlic rice.
And you get to have a buttermilk biscuit.
All these items just at $5 are a perfect blend of quality, quantity, and variety. You can compare Popeye's $5 Big Box with the meal offered in other restaurants.
You usually get a sandwich and an extra side for $5, whereas at Popeye's you get more food items maintaining the variety.
You can select the sides accordingly. The selection of sides depends upon the location of the particular outlet as many locations may offer different sides than the usual ones.
What are the famous food Items of Popeyes?
There are so many items in Popeye's that you will be bewildered. It's quite puzzling to choose the best items at the best price.
Hence, here are a few items you might be interested in buying if you are to save some of your pennies.
Chicken Sandwich: Popeye's is a famous local spot for chicken sandwiches. To give its competitor food chain Chick-fil-A, a tough competition, Popeye's introduced the Chicken sandwiches as a part of its menu. The sandwiches are made out of white meat battered with buttermilk on a brioche bun. It is seasoned with mayonnaise, pickles, and spicy spread.
Bonafide Chicken (spicy):- You are to lick your fingers while eating the last crumb of these crispy and crunchy bonafide chicken. On the inside of the pieces, you will find it to be soft and tender. Pairing this with honey or any other special sides of Popeye's would be great.
Chicken Waffle Tenders:- The tender bites of chicken will make your day. The Chicken waffle becomes more luscious to taste due to the dipping sauce. The honey maple dipping and the chicken waffles are a pair you cannot deny to have.
French Fries:- French fries are an important part of any kind of meal. Popeye's provides crunchy French fries along with quality dipping.
$5 Bonafide Big Box:- This is the best deal at Popeye's. You get to save your money without compromising on your amount of food. The big box is much in demand and Popeye's tries its best to come up with new and better big-box offers.
What are the Other Boxes Offered by Popeye's?
Popeye's has several boxes to offer. These offers may differ from one location to another. Here we are enlisting two most famous boxes available in almost all the outlets of Popeye's:
Butterfly Shrimp Tackle Box:– This is mainly for dinner. The box includes 8 butterfly Shrimps along with one regular side, a biscuit, and also a dipping sauce. This is priced at $5. Isn't it affordable? Also, you can add A drink to this meal by selecting the combo box for $7.
Popeyes $10 Bigger Box:- This one is similar to the $5 Big Box, though not as popular as the latter one, this bigger box has also managed to gain some fans. At $10, you get to have a bigger box containing Six chicken tenders, two biscuits, your choice of two sides, and a dipping sauce. This box is officially known as the $10 Tender Box and is available in only specific locations.