Sonic Half Price Burgers: Sonic is an American drive-in fast-food restaurant chain. Sonic's menu consists of a variety of food items ranging from delicious hamburgers, toasted sandwiches to French fries, corn dogs, onion rings, etc.
Sonic also features a range of flavored drinks. Soft drinks, slushes, and milkshakes are some of the drink options in Sonic. Sundae floats and ice cream is some of the other available desserts.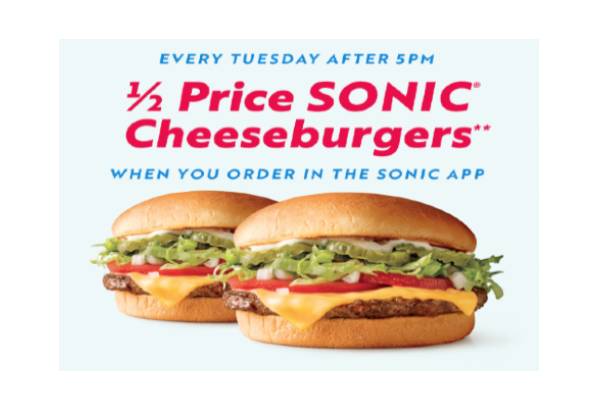 Anyone could be a fan of Sonic. But if you are amazed by the rich variety of hamburgers at Sonic, here's something you would like to know.
Sonic has come up with various menu specials and deals. One such deal is ½ price Cheeseburger. If you have an uncontrollable craving for Sonic burgers, come dive into the details of it.
How Much are Sonic Half-Price Burgers on Tuesday?
You can have burgers from Sonic by spending just half of its actual price. Not only that, but you can also have as many burgers as you want by spending just ½ of the price for each.
Sonic half-price burgers generally refer to the ½ price cheeseburgers which are popular these days.
The actual price of the Cheeseburger at Sonic is $3.49. So you get to save $ 1.75 each time you buy the Sonic ½ price Cheeseburger. Isn't that amazing and pocket-saving?
If you are someone willing to have a delicious burger by spending as little as you can, Sonic is the right place for you.
Are the Half-Price Cheeseburgers at Sonic Always Available?
Unfortunately,  Sonic has limited the availability of its famous half-price cheeseburgers. This is a special deal available only on Tuesdays from 5 p.m. till close.
The Sonic half-price cheeseburgers fall into the category of "Family Night" special menu. However, the half-price cheeseburgers are recently introduced and hence it might not be available in all the outlets.
It can only be ordered online in such cases. For this, you can download the Sonic App and order it online.
However, even in the App, the half-price cheeseburgers are only available on Tuesdays after 5 p.m till closing.
Sonic Half Price Burgers Taste
There's no doubt that the Sonic Half Price Cheeseburgers are finger-licking delicious items. You won't regret tasting them. Do you know what makes the Sonic half-price cheeseburgers immensely delicious?
It is the ingredients that Sonic uses to make the low-priced cheeseburgers equally delicious as the other items. It has maintained both the quality and the quantity at the same time.
You won't regret having a cheeseburger at $1.75 in Sonic.
What are the Ingredients that make Sonic Half Price Cheeseburgers Special?
One of the ingredients that make the American Cheeseburgers tasty is the American melted cheese. Sonic uses melted cheese in its cheeseburgers to enhance the taste.
The list of other special ingredients used in the Sonic half-price cheeseburgers are as follows:-
Single patty made out of 100% beef

Crinkle cut pickles

Chopped onions

Slices of tomatoes

Shredded lettuce

All the items are stuffed in a bakery fresh and soft bun

You can choose any of the following sides:- mustard/mayo/ketchup.
Topped with American melted cheese, the Sonic half-price cheeseburgers are a perfect item to have.
You can take your friends/family out to treat them to amazing cheeseburgers on Tuesday night, without having to spend much.
What are the Other Available Menu specials/deals/Coupons at Sonic?
Sonic has the most amazing deals and offers just like its parent companies- Arby's and Buffalo Wild Wings.
Here are a few popular deals other than the half-price cheeseburgers, available almost in all the locations:-
Chicken slingers for $2.49 each. There are two available variants Spicy and Classic. The classic slingers are smaller in size which comes with mayo. The spicy slingers come with a spicy ranch.

Mozzarella sticks at $0.99. You get to have four or five pieces of mozzarella sticks. The actual price of small-sized mozzarella sticks is usually around $2.50. So you can see the difference.

Fred Bull Slush coupon – When you use the Sonic app to order online, you get various discounts and coupons. This is one such coupon where on ordering some items online for the actual price, you get a free medium-sized Red Bull Slush or Red Bull Summer Edition Watermelon Slush.