Sonic Corporation or Sonic Drive-In is America's one of the top-rated drive-in fast-food chains. SONIC is owned by the same company which owns the Buffalo Wild Wings and the Arby's.
SONIC is popular for its colorful ice-cream slush range which is a must of the Summer Season and a sweet treat to the tongue throughout the year.
We are here to tell you all about the Sonic Ice Cream Slush – the taste, cost, and flavors. Stick with us and continue reading to know more.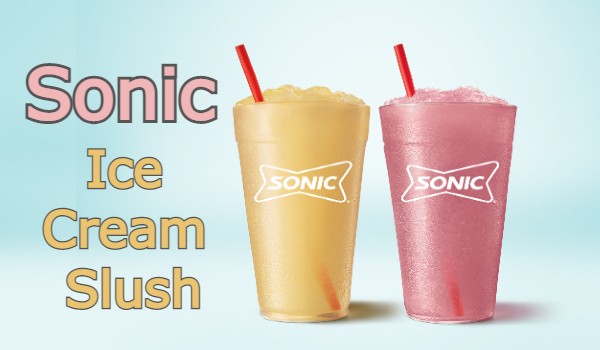 What is Sonic Ice Cream Slush?
SONIC sells a refreshing drink cum shake cum ice cream in a sipper plastic glass. They mix scoops of flavored ice cream with flavored syrup and a lot of ice.
The look can be both layered or mixed-up. According to the components and combination of the slush, different flavors are available.
All the flavors may not be available throughout the year. They keep on adding new seasonal flavored slushes as well. You can keep an eye on SONIC Drive-In's official website for currently available ice cream slushes.
SONIC Ice Cream Slush Flavours: Sonic has a range of flavors on the ice-cream slush menu. Presently, two types of ice cream slushes are available according to the website.
However, many more options should be there at different times. We are going to talk about many Sonic Ice tweeted cream slushes that are popular among the customers.
Red White and Blue Slush Float: Sonic has released a new ice beverage with a cool look as well as striking taste.

The slush contains 3 layers of 3 components. The first layer is a blue raspberry flavored slush which is topped with SONIC's real ice cream. The last layer is of Strawberry Real Fruit Slush. The combination of fruity slushes, real fruits, and creamy layers will give your mouth a unique taste.

"The sweet, creamy, and icy-cold Red, White & Blue Slush Float captures all the fun of Independence Day with everything you want from SONIC in a cup", tweeted Scott Uehlein, vice president of product innovation and development for SONIC.

New Red Bull Summer Edition Slush: Sonic has introduced two new slushies especially to enhance the summer vibes. The classic taste of Red Bull is hand-mixed with Sonic's dragon fruit slush. Two options are available.

The funky tropical summer flavor of dragon fruit along with Red Bull will give you a pair of bright wings.

Scott Uehlein, vice president of product innovation and development for SONIC has tweeted, "Dragon fruit flavor introduces a fun tropical flavor experience into our invigorating Red Bull Slush this Summer".
There are other flavors as well. SONIC has some cool ice cream slush with a creamy twist. Here is a list –
Cherry Ice cream Slush
Strawberry Ice Cream Slush
Blue Raspberry Ice Cream Slush
Orange Ice Cream Slush
Grape Ice Cream Slush
Blue Coconut Ice Cream Slush
These slushes add a touch of SONIC 100% real ice cream with fruity freshness and icy coolness.
PRICE:
Sonic Drive-In slushes cost has come halfway down since they have introduced the half-price ice cream slushes.
RED, WHITE AND BLUE SLUSH FLOAT – $2.99
NEW RED BULL DRAGON FRUIT SLUSH – $ 3.99
The prices vary along with the size of the sippers. 3 sizes are available- Large, Medium or Standard, and Small.
But it is better to check the website for the adjacent prices. However, if you order online from SONIC's official website, you will have to pay half of the drive-in price.
Sonic Ice Cream slushes are the mandatory beverage in summer. We hope that this article gave you a clear picture of everything regarding the Sonic Ice Cream Slushes.
The options and prices can vary with location. Sonic's official website has further details which you can check before driving in.