Sonic Shakes After 8: Sonic Corporation or Sonic Drive-In is America's one of the top-rated drive-in fast-food chains. SONIC is owned by the same company which owns the Buffalo Wild Wings and the Arby's.
SONIC is popular for their Sonic Shakes Range which is a must of the Summer Season and a sweet treat to the tongue throughout the year.
We are here to tell you about the special 8:00 pm half-price offer brought back by Sonic Drive-in on the milkshakes and classic shakes.
If you often visit Sonic counters and buy a glass of shake while driving, then you must read this article to know more about this appealing offer.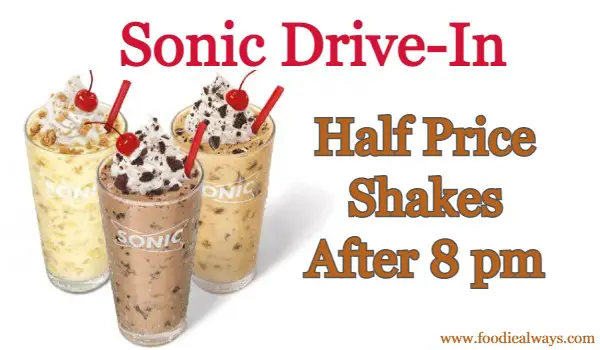 Sonic Shakes Half Price After 8 PM:
There is a fixed time for this Sonic Shakes' 50% off discount. Although the original price is charged for the whole day if you drive in after 8:00 PM, a big discount will be waiting for you.
You will get all the Sonic shakes at just half price. The offer starts at 8:00 and continues till they close.
You may grab a glass of your favorite Sonic Shake while returning home from work and it will cost much less than you expect.
Price – Sonic 50% off Shakes 2021
The new Sonic Shakes offer cuts the original price of one shake to half. You will be able to grab 2 shakes of 2 different flavors while paying for just one.
The final price of the shake will depend on your order. Whatever flavor you choose, whatever size, they will charge you half of the total. The discount will be imposed on every shake separately.
What is Sonic Shakes?
Sonic's range of ice-cream treats and drinks is really impressive and creative, be it ice cream slush, ice cream float, or blasts or shakes.
They have pretty good offers on the purchase too. One of them is the ongoing offer on Sonic shakes.
Sonic Drive-in has reintroduced one of their old discounts on Sonic Shakes. These shakes are a refreshing drink cum shake made from 100% real ice creams of different flavors and added fruits and bites and added flavors, served in a sipper plastic glass.
They take flavored ice cream and mix it with caramel or chocolate fudge or peanut butter, according to your choice. Occasionally they may add cookies or crumble or fruit bites based on the order.
The drink is topped with whipped cream and a fresh cherry on top. According to the components and combination of the Shake, variations are available.
Hot Fudge Shake, Peanut Butter Shake, Vanilla Shake, Banana Shake, Cheesecake Shake, Oreo Shake, and many more. All the flavors may not be available throughout the year.
They keep on adding new seasonal flavored shakes and brand-new ones as well. You can keep an eye on SONIC Drive-In's official website for currently available Sonic ice cream shakes.
Sonic ½ Price Shakes Offer
This year Sonic is bringing back some of their popular drive-in offers on the summer drinks. One of them is this Sonic Shakes half-price offer.
All the 20 plus flavors of shakes are now available at just half of their original price. That means now you will get a straight cut of 50% off on any Sonic Shake.
Sonic Ice Cream Shakes are one of the mandatory beverages of summer. And what is better than to get one while paying half the price.
So without any delay grab your half-price shake from Sonic drive-in. We hope that this article gave you a clear picture of everything regarding the Sonic Shakes Half Price Offer After 8 pm.
The options and prices can vary with location. Sonic's official website has further details which you can check before driving in.