Starbucks is globally famous for serving the best quality coffee and drinks. Starbucks Drinks for Kids include caffeine-free drinks and other customizable drinks for your little ones.
Who does not love to grab a Starbucks coffee whilst on the way to Job or Back Home? A glass of Starbucks' Hazelnut Frappuccino or Iced Americano always makes a perfect couple with our weekend visit to downtown.
But today's update is exclusively for all the little ones out there.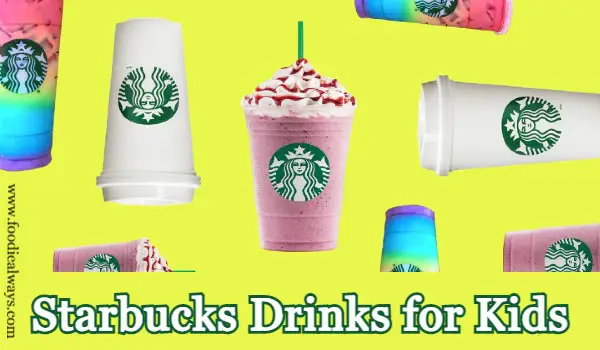 Often Starbucks is associated with being a regular place for teenagers and middle-aged people to hang out after school or work.
But does that mean kids are completely excluded? No, Starbucks dedicates a part of its menu to kids. Starbucks Drinks for Kids are available in two sizes – 8 ounces and 12 ounces.
The temperature and amount of sugar are strictly maintained to make the drinks suitable for children. In this article, we will be providing you with a list of Starbucks Drinks for Kids.
Most of the drinks are high on caffeine and have a very strong bitter taste which might not be your little one's favorite.
So, we have come up with this menu which is a collection of "kids-friendly" and "kids favorite" drinks from Starbucks.
Favorite Starbucks Drinks for Kids
Starbucks Kids Drinks contains a range of customized drinks that are usually available in any Starbucks outlet or take-out.
And these fewer caffeine drinks are specially designed for your kids with their favorite ingredients like creme, candies, chocolate, syrup, strawberry extract, and many more.
Kids' drinks at Starbucks are specially made keeping the kids' health and taste in mind. Parents become confused while visiting Starbucks with their kids.
Though there is no specific section like 'Starbucks Kids Menu', but we have picked up the 10 tastiest kids' friendly beverages which you can keep on the top of your order list.
Hot chocolate/ Hot White Chocolate
Kids and chocolate are best friends. If your kid also loves drinking typical Hot Chocolate, then we got you covered. Starbucks' Hot Chocolate will be the best choice as it comes with optional Mocha Sause and Vanilla Syrup.
It will sweeten the drink and add a little flavor. You can go for either regular brown chocolate or white chocolate. It is a regular classic taste to satiate the children's chocolate craving.
The caffeine level of this drink is at a minimum level. You can cut the additional sauce to lessen the sugar intake.
Can you imagine a drink with cotton candy in it? Well, Starbucks can do wonders. This drink is a combination of Frappuccino and cotton candy flavor – a perfect Starbucks order to make your kid happy.
The pink tone of the raspberry syrup gives it a melted cotton candy look. The basic Frappuccino is a vanilla Bean one.
Like any other Starbucks drink, you may choose to add other syrups and flavors alongside. It is a caffeine-free drink.
This one is a simple and basic choice for your kid. It is made with milk and strawberry puree. If your little one is a big fan of strawberries then this one will win over his/her heart.
Milk will be of your choice – soy, full fat, non-fat, coconut, almond. Usually, the available size will be 12 ounces (tall).
Double Chocolaty Chip Crème Frappuccino
This Frappuccino is given a strong chocolaty and sweet taste. It is a creme-based Frappuccino with chocolate flavor, Choco chips and one pump of mocha sauce, and no added coffee.
Cookies and Cream Frappuccino/ Oreo Frappuccino
It is a Java Chocolate Chip and Vanilla Bean Frappuccino. It is blended with White Mocha Sauce and topped with regular or flavored whipped cream and chocolate cookie crumbles.
The popular combination of whipped cream, vanilla Bean Frappuccino, Mocha sauce, and Java chips is elevated a level higher with the addition of the Oreo pieces on the top.
Orange Creamsicle Frappuccino
A cool and tasty drink like this one can be your first preference on summer days. This customized drink is one of the top choices in Starbucks' Secret Menu.
The ingredients are – milk of your choice, Orange Mango or Valencia Orange Refresher Juice, syrup of your choice, crème base according to the size. The whipped cream is optional.
Starbucks Apple Juice serves 2 purposes – it is healthier and tastier. It contains 0 percent caffeine and 0 percent fat.
This freshly steamed 100% apple juice (not from concentrate) will boost up your kid's energy and add to the essential nutrients.
You can go for any Starbuck Lemonade drink for your kid. Strawberry Lemonade is plain lemonade with blended strawberry puree.
It comes in a Tall size. You can customize your Lemonade with your favorite fruits.
This drink is another option if your kid is an apple lover. Compressed apple juice with a little touch of cinnamon syrup and caramel drizzle on the top
. Cinnamon's spicy punch with apple's classic sweet taste is the perfect combination to satiate your kid's cravings. To make it even more attractive you can tell them to add whipped cream.
Pumpkin spice Crème/ Pumpkin Spice Latte
Missed giving the Halloween's Day treat to your kid? Well, Starbucks has the solution for everything. The Pumpkin Spice Latte is an apt drink for a Halloween celebration.
A 0% Caffeine drink for your child is all you want and this one stands on your parameter.  This is a combination of steamed milk, pumpkin, cinnamon, nutmeg, and clove. To add on, whipped cream and Pumpkin Pie Spice enhance the taste.
These are the 10 drinks we have enlisted for you. We have included drinks from the menu as well as many customized drinks. There are many more secret drinks for kids. Here is a list –
Banana Cream Pie Frappuccino
Butterbeer Frappuccino
Bubblegum Frappuccino
Vanilla and Chocolate Chip Ice Cream Frappuccino
Strawberry Frappuccino
Blended Strawberry Lemonade
Water with Strawberry Inclusions
These are some customized items that are not just safe for your kid's health, these will also make them super happy and satisfied. Starbucks usually has 3 sizes.
There is no individual kids size available but you can order the small one for the customized drinks. All of the above-mentioned drinks are either non-caffeinated or very low on caffeine.
The advantage of choosing Starbucks is that you can customize drinks according to your choice.
A lot of options are always available in the syrup, topping, cream, flavor. If your kid has some specific food allergy or if you want to opt for a less sugar diet, Starbucks will always adjust and will come up with a delicious and magical drink to surprise your little one.