Subway Flatbread Nutrition: The Healthiest fast-food restaurant Subway offers several varieties of bread for your 6-inch subs or 12-inch Footlong, and the type you choose bread can slightly change the calories of your subs.
Subway has a variety of bread types; 9-Grain Wheat, Multi-grain Flatbread, Italian, Italian Herbs & Cheese, and Flatbread.
Let's look at "Subway Flatbread Calories". If you are concerned about your daily calorie intake, consider choosing the lower-calorie sub more often from your favorite Subway menu.
To keep your daily diet on track Flatbread is the smart choice at Subway, let's look at the nutrition information.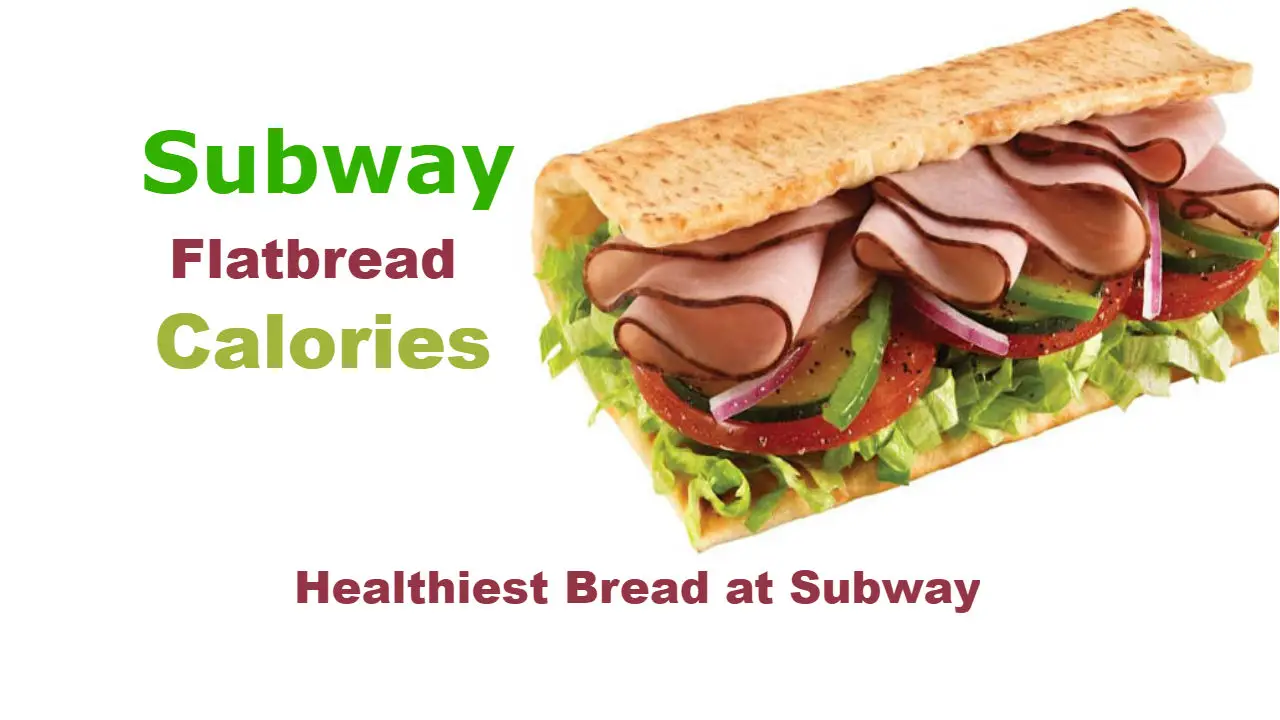 Subway Flatbread Calories
Subway is known for having several types of bread from which you can choose when ordering a sub.
All the bread typically contains some form of wheat flour. The type of bread you select impacts the overall calorie content of the sub.
| | |
| --- | --- |
| Nutrition | Calories |
| Calories | 220 g |
| Calories From Fat | 40 |
| Total Fat | 4.5g |
| Saturated Fat | 1g |
| Trans Fat | 0g |
| Cholesterol | 0g |
| Sodium | 320mg |
| Carbohydrates | 38g |
| Dietary Fiber | 4g |
| Sugar | 2g |
| Protein | 7g |
| Vitamin 'A' | 0% DV |
| Vitamin 'C' | 0% DV |
| Calcium | 4% DV |
| Iron | 10% DV |
If, sometimes how do you calculate the Subway Calories count, prepared the way you like it?
The Subway official website has a Nutrition Calculator that allows you to customize your Subs and then provides a nutritional table for your favorite Sub.
Type of Bread at Subway
Flatbread bread is made with flour, water, and salt and then thoroughly rolled into flattened dough. Many flatbreads are unleavened – although some are slightly leavened, such as pita bread.
9-Grain Honey Oat
9-Grain Wheat
Ciabatta Bread
Flatbread
Harvest Bread
Honey Italian Bread
Italian Bread
Italian Herbs & Cheese
Monterey Cheddar
Parmesan Oregano
Roasted Garlic
Multi-grain Flatbread
Subway Bread Calories
Subway's 6-inch serving of Flatbread has 220 Calories.
The 9-Grain Honey Oat, Harvest Bread, and Roasted Garlic have 230 calories per 6-inch serving, while the 9-Grain Wheat, Hearty Italian, and Parmesan-oregano all have 210 calories for the same size serving.
The Monterey Cheddar Bread has 240 calories per 6-inch serving. The Ciabatta bread has the most calories at 300 per 6-inch serving.
The Italian Herbs & Cheese has 250 calories for a serving of the same size, while Italian bread contributes 180 calories per serving.
Flatbread Nutrition
The lowest calorie value among the Subway bread is Italian Bread.
This makes it the best choice for individuals who are calorie conscious; however, the 9-Grain honey oat, Flatbread, Harvest Bread, and the 9-grain wheat have the most grams of Dietary fiber at 4 grams per serving.
Diets high in fiber can help normalize bowel movements, lower blood cholesterol, and help control blood sugar levels.
The 6-inch Flatbread comes out on top with only 220 calories. These values show you flatbread calories in detail view 7 grams of protein, 38 grams of carbohydrates, and 4.5 grams of fat or 14% of the daily value.