Spicy Italian Calories: Healthy eaters and Smart dieters will check the calories in fast-food restaurants. It's a great way to make a good choice and order lower-calorie food.
If you're hungry, the Subway Sandwich Menu has yummy Subs that are loaded with flavor and nutrition.
A Spicy Italian sandwich piled high with crunchy veggies; the freshly baked bread will help you stay within your daily calorie needs.
Complete nutrition information for Subway Spicy Italian including Calories, Nutrition Table, weight watchers points, ingredients, and allergens.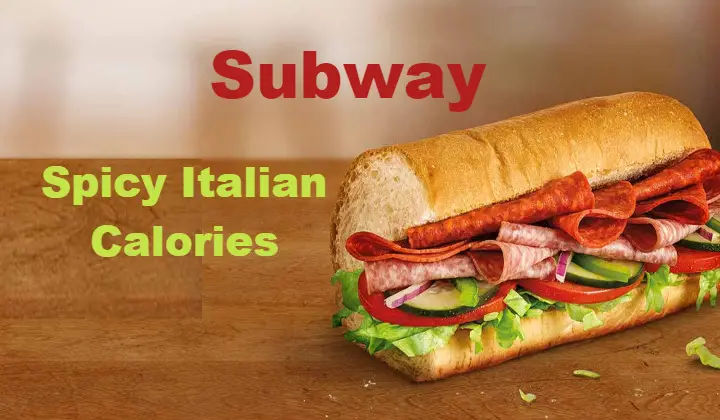 Many Subway menu subs are nutritious and lower in both fat and calories. But not all Sub menu choices are good for your healthy diet plan.
The nutritional value and calorie counts can vary significantly. To keep your daily diet plan on track, it's important to calculate the Subway nutrition chart and calories before you order.
** May was not available in all restaurants.
Hungry for more:
Subway Calories Calculator
How many calories in Subway Salad
Calculate Subway Wrap Calories
Delicious Signature Wraps
View the Subway menu from delivery apps on Zomato or Swiggy, Dine-out or Takeaway including Subway prices.
Subway Spicy Italian Calories
A Subway Spicy Italian 6 Regular Sub contains 450 calories. Because some of the key ingredients in Spicy Italian is a combo of Pepperoni and Salami, most of the calories are from carbohydrates 40g.
However, the 6-inch regular sandwich spicy Italian contains 24 grams of fat, of which 9 grams are saturated, 18 grams come from the Protein.
Spicy Italian also has 1240 milligrams (mg) of sodium, 60mg Cholesterol, 3g Dietary Fiber, 5g Sugar, Calcium% DV 4 & Iron % DV 20.
Subway Footlong Calories: If you order Subway Footlong Spicy Italian those numbers to 900 calories and 49 grams of fat, of which 17 grams are saturated.
However, it has 2470 milligrams of sodium. The Spicy Italian Footlong has 125 mg Cholesterol, 80g Carbohydrates, 36g protein, Vitamin A % DV 15, Vitamin C % DV 80, Calcium % DV 10 & Iron % DV 35.
*Default nutrition values based on pre-selected ingredients. Subway reports in its nutritional data charts. Official Source – Subway.com
Subway Spicy Italian Nutrition Table
Nutrition Values: How many calories in Spicy Italian Sandwich from Subway? The Nutrition table will help you out with Spicy Italian proteins.
| | |
| --- | --- |
| Nutrition Table | Values |
| Calories | 450 calories |
| Fat | 24g |
| Saturated Fat | 9g |
| Trans Fat | 0g |
| Cholesterol | 60mg |
| Sodium | 1240mg |
| Carbohydrates | 40g |
| Dietary Fiber | 3g |
| Sugar | 5g |
| Protein | 18g |
| Vitamin 'A' | 8% DV |
| Vitamin 'C' | 40% DV |
| Calcium | 4% DV |
| Iron | 20% DV |
If, sometimes how do you calculate the Spicy Italian Subway calorie count, prepared the way you like it? The
Subway's official website has a Nutrition Calculator that allows you to customize your 6-inch Regular/Footlong and then provides nutritional information for your favorite Sub.
Ingredients used in Spicy Italian
Spicy Italian Recipe: Spicy Italian sub is a combo of pepperoni and Genoa salami. Pile on cheese, crunchy veggies, and finish it with your favorite sauce.