Wendy's Dave's Triple Calories: Dave's triple hamburger from Wendy's, everyone wishes to try once because it looks very large in size. The three-quarter pound of fresh never frozen beef makes the food heavenly and mouthwatering. Wendy's is the most well-known fast-food restaurant whose menu is filled with pleasant foodstuff. The coupons will help to get your favorite Dave's triple burger at affordable prices.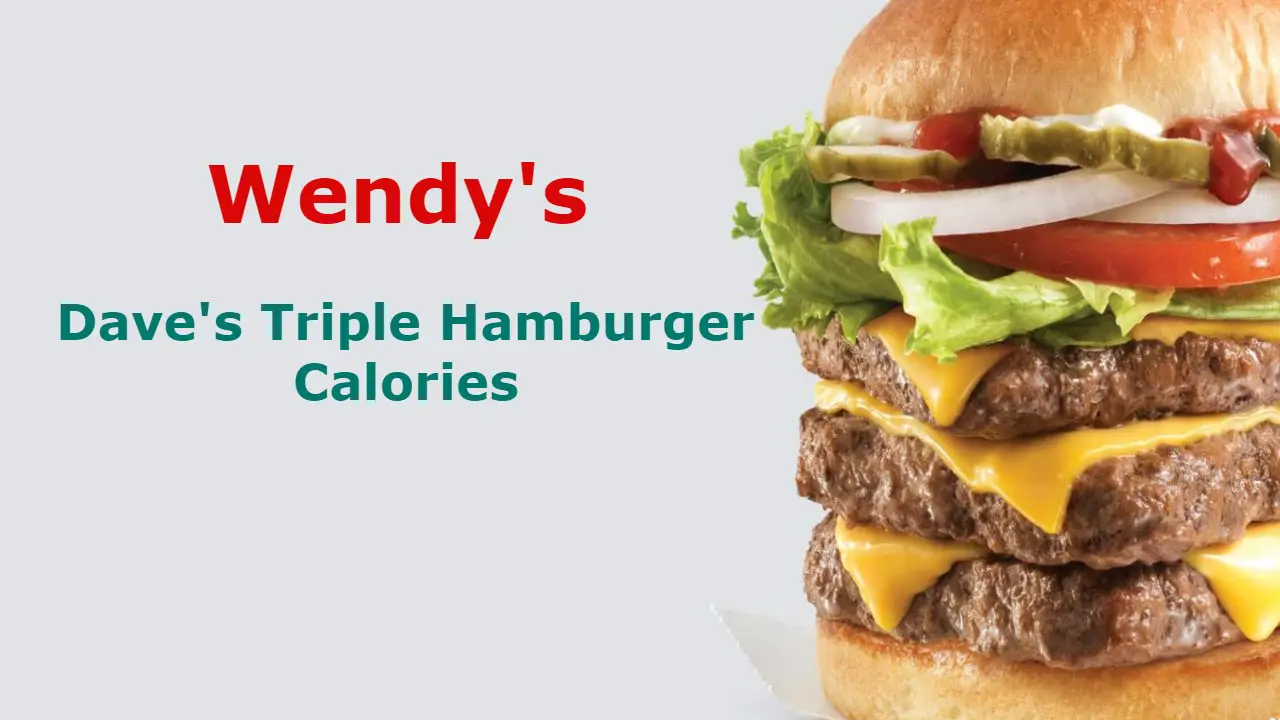 If you're ravenous, about to order your Wendy's triple burger you might be fascinating about calories intake. You no need to worry about that because Wendy's is concern about your calories with very good taste. It's good to check out the calories, nutrition facts and ingredients of your favorite Dave's triple burger.
How Many Calories are in Wendy's Dave's Triple?
Wendy's Dave's Triple burger contains 1090 calories and 57% of the calories come from fat. The enriched wheat flour is used for the bread, which is slightly cooked makes the burger a little crispy and crunchy.
 The 650 calories from fat out of 1090 calories that means Dave's triple burger contain total fat of 72g. It also contains Cholesterol of 260mg, carbohydrates of 43g and sugar is 9g.
The iron is 50% DV, calcium is 25% DV, vitamin C is 8% DV and vitamin A is 20% DV is used to make the healthy Dave's triple burger from Wendy's. The minerals which play a vital in our daily nutrition are sodium of 1650mg and potassium of 960mg.
Wendy's Dave's Triple Nutrition Facts
Here the table will help you to know the nutrition facts and to calculate the calories of Wendy's Dave's triple burger.
| | |
| --- | --- |
| Nutrition | Calories |
| Calories | 1090g |
| Fiber | 3g |
| Protein | 71g |
| Fat | 72g |
| Saturated Fat | 30g |
| Trans Fat | 4g |
| Polyunsaturated Fat | 3.5g |
| Monounsaturated Fat | 27g |
| Cholesterol | 260mg |
| Sodium | 1650mg |
| Potassium | 960mg |
| Carbohydrates | 43g |
| Sugar | 9g |
| Vitamin A (%DV) | 20 |
| Vitamin C (%DV) | 8 |
| Calcium (%DV) | 25 |
| Iron (%DV) | 50 |
The values mention in the table is from the official website of Wendy's. So, it makes easy the calorie count that you're required.
Wendy's Dave's Triple Ingredients
Dave's triple burger contains never frozen beef of three layers which makes the burger savory and delish. It also comes with onion, tomato, crisp lettuce, American cheese, crinkle cut pickles, ketchup and mayonnaise.
They all are placed between the slightly toasted enriched wheat bread, adds crispy and crunchiness to Dave's triple burger from Wendy's.
These all ingredients make Wendy's Dave's triple burger a mouth-watering and popular burger.
I hope you like the details of Dave's triple calories from Wendy's. So, you can easily calculate the calories as your way with the help of a calorie calculator.