Wendy's 2 for 5: Wendy's is an international fast-food chain in America especially known for its square Hamburger, sea salt fries, Frosty, and other snacks items.
Here you will get a great variety of hamburgers, chicken sandwiches, French fries, breakfast sandwiches, frozen dessert, salad, chicken nuggets, etc. at a very reasonable price.
In addition to this, a lot of interesting deals keep on coming in Wendy's. And one such deal is Wendy's 2 for a $5 meal.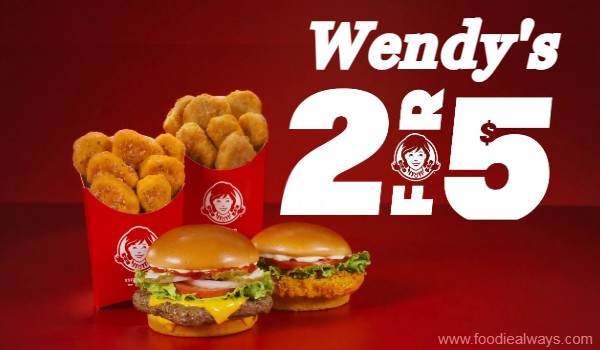 In this article, we are going to inform you about this 5-dollar meal deal given away by Wendy's.
Here you will get to know the menu option, the food quality, and the combination of the five dollars' deal in a nutshell.
Wendy's 2 for 5 dollars meal deal is a perfect order for the hungry diners. And if you are a chicken lover, that will only add to it. Because Wendy's 2 for 5 dollars meal is all about the crispy and juicy chicken dishes.
To know in detail, please continue reading.
What is Wendy's 2 for $5 Meal?
Wendy keeps on coming with new offers and captivating deals. Wendy's 2 for $5 meal deal is a combo package consisting of two snacks items.
You can select your favorite chicken items from a list and it will cost only 5 bucks which is very cheap. This deal is your savior for the unpredictable cravings for snacks while rolling down the streets.
Or the moment when you want to give a delicious treat to your friend but your budget is low, Wendy's 2 for $5 is the best to opt for.
This deal has a good number of items for you to select. There are various types of sandwiches for the meat-lovers and crispy chicken nuggets as a side snack.
Wendy's 2 for $5 Meal Deal Options:
Wendy's 5 dollar meal includes 3 different types of sandwiches. You can choose anyone. All three of them taste great; crispy and juicy at the same time.
The chicken nuggets come with their usual classic delicacy, crunchy and crispy on the outside and juicy inside. Nothing but a perfect chicken nugget.
3 Types of Tasty Sandwiches are available.
Spicy Crispy Chicken Sandwich: The spicy crispy chicken is a new addition to Wendy's $5meal deal menu. This is a very spicy and fiery burger.

Chicken breast fillets are coated in bread crumbs and seasoned with spice and paprika and then they are fried in vegetable oil.

This will put fire on your taste buds. So, people who have a likeness for hot spicy food should try this one. The new item has already gained a very positive customer review.

Grilled Chicken Sandwich: Herb-marinated grilled chicken breast topped with smoky honey mustard, crisp spring mix, and tomato, served on a warm toasted bun. The smoky honey mustard, tomato, and spring mix spices add extra flavor to the sandwich.

Crispy Chicken Sandwich: People who avoid heavy and fatty meat, can go for this one. The chicken lovers will love this. This sandwich comes with juicy white, tender chicken, perfectly crispy and crunchy on the outside.

The chicken is cooked with very tasty seasonings. On top of the chicken fresh crisp lettuce and creamy mayonnaise are served as well.
2 types of chicken nuggets are available. You will get 10-pieces chicken nuggets in this deal. It is quite filling.
Spicy Chicken Nuggets: 100% white-meat chicken breaded and marinated in Wendy's unique, fiery blend of peppers and spices. And to add to it you can choose your favorite dipping.
Crispy Chicken Nuggets: Crispy breaded chicken and juicy inside create a perfect taste. Your favorite dipping is there to compliment the crispy nuggets.
Wendy's takes special care to make sure all the food remains smoky hot at the time of the delivery, even when you order online.
You won't get another such hot deal in just 5 dollars anywhere else. It is only and only Wendy's 2 for 5 deal. The combo is belly-filling for one person.
For a random snack craving, two chicken items including one sandwich and 10-piece chicken nuggets are ideal. This is worth giving a try.
We hope that after reading this article you have got a clear idea of Wendy's $5 deal. If you have not tried it yet, just hover to the official website of Wendy's and order.
The scrumptious combination of different snack items will satisfy your craving in just 5 dollars. For any further queries, you can visit the official website of Wendy's.