Wendy's 50 Cents Frosty: Wendy's is an international fast-food chain in America especially known for its square Hamburger, sea salt fries, Frosty, and other snacks items.
Here you will get a great variety of hamburgers, chicken sandwiches, French fries, breakfast sandwiches, frozen dessert, salad, chicken nuggets, etc. at a very reasonable price.
In addition to this, a lot of interesting discounts and deals keep on coming to Wendy's. One of them is the 50 cents Wendy Frosty.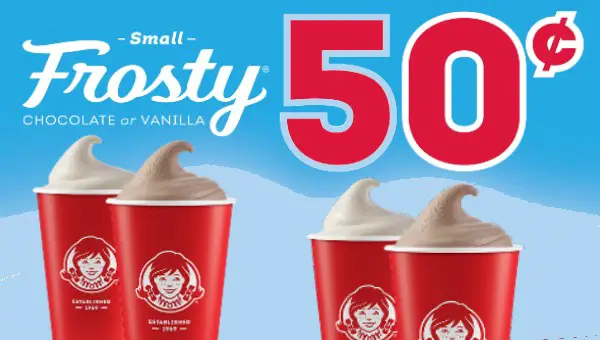 In this article, you will get to know all about Wendy's Frosty worth only 50 cents.
This popular discount is reintroduced by Wendy's in the Summer of 2021 to attract more customers. Dive in to know in detail about the Fifty Cents Frosty at Wendy's.
What is Wendy's 50 Cents Frosty Offer?
Wendy's has brought a new deal for the customers for this summer season. The Frosty on Wendy's list is a popular choice.
Customers like complimenting their snacks with a cup of smooth and creamy frosty. The new summer offer has cut down the price of one cup of Wendy's Frosty to just 50 cents.
Price:
One small Wendy's Frosty of classic chocolate or vanilla flavor now costs only 50 cents which is a half dollar.
2 Frosties of 2 different flavors will come in just one dollar and you will be able to save a few bucks for your meal or snacks. This 50 cents Frosty deal is available on the Small size cup only.
Wendy's Frosty Special
Wendy keeps on coming with new offers and captivating deals. Along with their captivating meal deals, this time Wendy has brought forth a special offer on one of their customers' favorite dessert items – Wendy's Frosty.
Wendy's Frosty is a frozen dessert made with cream. It best goes with the other fried snacks and meals on the menu.
Wendy's Frosties give you the perfect ending with their cool and creamy punch. One bite of the Frosty has that flawless texture of smooth and thick perfection.
There is a choice in Wendy's Frosty between Vanilla and Classic Chocolate flavor.
We hope you have got all your queries cleared regarding Wendy's new 50 cents Frosty offer. For more details, you can visit Wendy's official website.
Though it's a global discount, still some outlets may not be participating. So, it's better to check once before visiting.
Wendy's has many more deals and discounts going on their scrumptious snack items and filling meals which are definitely worth giving a go.