The Wendy's Dave's Double is the most popular and delightful Hamburger. Wendy's is a well-liked American fast food restaurant.
Wendy's menu is filled with delicious and yummy food items. One of the must-try food items is Hamburger which helped Wendy's to gain 3rd place in the fast-food chain.
If you had a glimpse at Wendy's restaurant you can see "Quality is our recipe" so there is no compromise in their food.
So, when you are considering ordering Dave's double you might wonder how many calories it contains? What are the nutrition facts? What Ingredients are used in Dave's Double?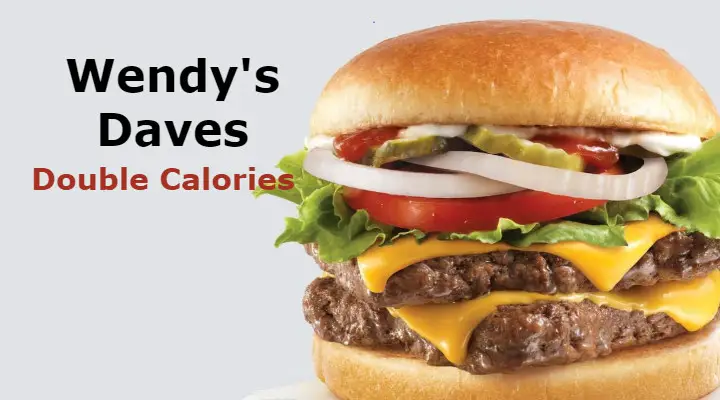 The Dave's Double is the most favorite fast food item because it just fulfills your taste buds with their delicious and yummy taste.
At the same time, you might consider the Ingredients and Nutrition facts in Dave's Double. Mostly how many calories that are a Dave's Double contains? So, let's examine the calories and nutrition facts?
Hungry for More:
Delicious Wendy's Dave's Single Hamburger Calories

Yummy Dave's Triple Hamburger Nutrition Facts
Wendy's Daves Double Calories
Wendy's Calories: Dave's double is made of 810 calories and 51g are from fat. It contains 49g of protein which is an extremely good diet for nutrition.
The Dave's double is the mouth-watering hamburger specially made with beef, tomato, onion, lettuce, chilies, or bacon under freshly baked bread.
The Dave's double also contains 40g of Carbohydrates of; the Fiber 3g, Sodium 1280mg, and sugar of 8g.
Wendy's Dave's Double Nutrition Facts
The following table will help you examine the calories of Wendy's Dave's double.
| | |
| --- | --- |
| Nutrition | Calories |
| Calories | 810g |
| Fiber | 3g |
| Protein | 49g |
| Fat | 51g |
| Saturated Fat | 20g |
| Trans Fat | 3g |
| Polyunsaturated Fat | 2.5g |
| Monounsaturated Fat | 18g |
| Cholesterol | 175mg |
| Sodium | 1280mg |
| Potassium | 700mg |
| Carbohydrates | 41g |
| Sugar | 8g |
| Vitamin A (%DV) | 15 |
| Vitamin C (%DV) | 8 |
| Calcium (%DV) | 20 |
| Iron (%DV) | 35 |
Most of your queries on Dave's double can be answered by the table mentioned above. It may help you calculate the calories that Dave's double contains?
Ingredients Used in Dave's Double Burger
Dave's double is the most delightful and yummy hamburger. Wendy's makes the hamburger tastier with their 2 layers of unfrozen beef. It also contains cheese, lettuce, tomato, onion, pickles, chilies, or bacon.
The Dave's double is offered with ketchup, mayonnaise, mustard, and other special sauce with sesame seeds on the top. These all ingredients come under the pan-fried or grilled bun.
Eventually, the mix of these ingredients brings the divine taste for Dave's double hamburger.