Zipps are run by local owners. The restaurants are operated on a local level and are quite neighbor-friendly.
It is quite easy for customers to socialize with their neighbors and have friendly conversations while watching TV or playing in the Zipps Sports Grill.
This place also serves the Zipps Happy Hour Menu which features several items from Zipps Specials.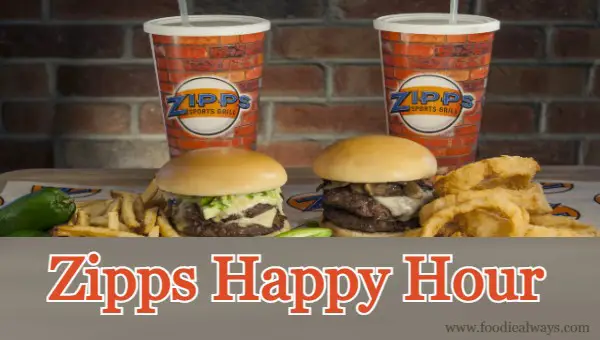 If you want to feed your stomach with a good dose of premium wine, drinks, chips, salsa, etc, then the Zipps Happy Hour is for you.
In this article, we shall discuss the prices and the availability of items in the Zipps happy hour menu. Also, we will help you locate Zipps restaurants near you and the timings of Happy hour.
What is Zipps Happy Hour Menu?
The Zipps Happy Hour is for dine-in only. Therefore, the items that are included in the Zipps Happy Hour Menu are mainly dinner items.
Here is a list of the items available in the Happy Hour menu. The list includes both drinks as well as food items. The prices of each item are also mentioned.
Icebergs –This is for the extra chill one need for draft beer or hard seltzer. Costs – $0.50
Pizza Slices –Each slice costs around $3.25. additional toppings cost $0.60 per slice. The toppings are available in many varieties – pepperoni, onion, mushrooms, pickled Jalapenos, pineapple, green peppers, goat cheese, etc.
Well Drinks –Also, known as the house wines, these are available for $3.
Zipparitas – This particular item is available in so many variants such as regular, strawberry, watermelon, peach, new mango, and many more. The initial cost is $6.50 but $1 is added per flavor.
Zipps Blonde Pints – $4
Hard Seltzers – This comes in two major variants – Truly Hard Seltzer in which one gets to choose between wild berry or pineapple and White Claw Hard Seltzer which comes in two flavors- black cherry and mango. The cost of each is $4.
Ketel Ones – $5
Crown Royals – $5
Milagros – $5
Hendricks – $5
Jameson's – $5
Premium Pints – $5
Chips, salsa, and Guacamole –The chips are served with salsa and fresh guacamole. Costs just $5.
32oz Domestic Drafts – $6
Premium Wines –this includes a variety of wines such as Kendall Jackson, La Crema, at $6.
Chicken Skewers –About a dozen of white chicken tender pieces are served along with a choice of two different sauces at $8
Zipps Wings –this comes with 3 wings/ pieces. Comes in various flavors – buffalo style or golden (sweeter), mild, medium, hot, or extra hot at $10
The Zipps Happy Hour Menu is available in all the main locations such as ZippsScottsdale.
When is the Zipps Happy Hour Menu Available?
Since the Zipps Happy Hour Menu is made for dining only, it is available between 3:00 pm until 7:00 pm, except on weekends.
Therefore, if you wish to visit your nearby Zipps restaurant, make sure you do that on any day between Monday to Friday between 3:00 pm to 7:00 pm.
How to find Zipps near me?
You can simply get to know your nearby Zipps restaurant by visiting their official website – www.zippssportsgrills.com.
Some of the famous Zipps locations where you can avail of the Zipps Happy Hour Menu are – Shea, Park Central, Hayden, Gilbert, Bethany, etc.
You can also send your query via email on the official website.
Conclusion
Zipps Happy Hour Menu enables you to choose from a variety of food and drink specials.
Even if you do not manage to avail of this particular Happy Hour Menu, you can go for other deals such as the Lunch- sized Salads, Weekend Hangover, Nighty Specials, and many more.