Chick-fil-A Breakfast Hours: If you are an early riser and are fond of having a chicken-loaded breakfast, Chick-fil-A Breakfast hours might suit you.
Do you wake up at 6 am? If yes, you might drive yourself to the nearest Chick-fil-A outlet and grab your breakfast.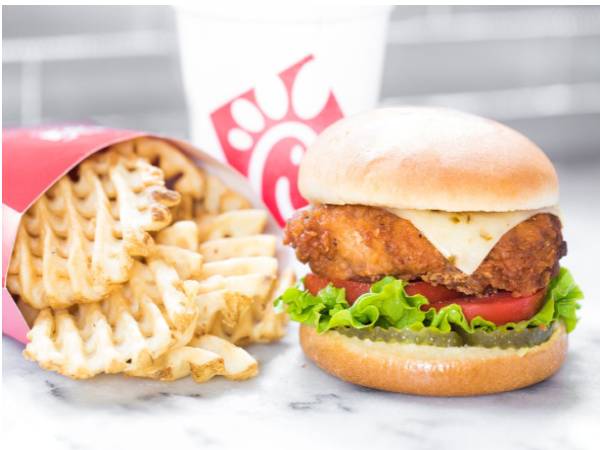 Over the years, Chick-fil-A has been gaining popularity for its rich chicken sandwiches. It is one among those few American Restaurant chains, whose specialty is in Chicken Sandwiches.
However, Chick-fil-A has also a combination of other food items on their menu.
Hungry for More:
When does Chick-fil-A Breakfast Hours Start?
The Chick-fil-A Breakfast Hours start typically from 6:30 a.m. Many outlets might start a little later, that is, from 7:30 am. The time varies according to the location of the particular Chick-fil-A outlet.
Also, all the Chick-fil-A outlets remain closed on Sundays. So if you are craving for going out on a Sunday morning to have Chick-fil-A breakfast, you won't be able to have it.
You will have to look for alternatives to suffice your early chicken-loaded breakfast.
It is always advised that you look upon the official app of Chick-fil-A to know the time of operation of a specific outlet.
The app is incredible and easy to use. You can have access to all the required information right by sitting on your bed and then deciding to go.
Does Chick-fil-A offer an All-day-long Breakfast Menu?
The answer is No. Unlike McDonald's and many other American food chains, Chick-fil-A has not yet come up with its All-day-long breakfast offers.
If you are willing to have breakfast at your favorite Chick-fil-A restaurant, you will have to be there within a limited time frame.
As of now, there's no news from the owners of starting the All-day-long breakfast hours at Chick-fil-A.
What are the items available in the Breakfast Menu of Chick-fil-A?
It is a wrong conception that Chick-fil-A only serves Chicken Sandwiches throughout the day.
In fact, according to a report of 2018, the most ordered item of Chick-fil-A was Waffle Fries, followed by original Chicken Sandwich and Chicken Nuggets.
Along with the signature food item, Chicken Sandwiches there are many other items available such as Egg
White Grill Breakfast Sandwiches during the breakfast hours. All the food items and variations are delicious and healthy. The other items from the Chick-fil-A Breakfast menu are gaining popularity as well.
Here's a list of breakfast items you are likely to find in most of the outlets of Chick-fil-A:-
Egg White Grill –Served on a toasted multigrain English muffin is grilled chicken with a flavor of citrus. It is served with egg whites and American cheese.
Chick-n-Minis – These are Chicken Nuggets in mini yeast rolls brushed with honey butter spread.
Biscuits- Biscuits are the favorite part of the menu. They are available in different forms and combinations-
Chick-fil-A Chicken biscuit
Bacon, egg, and cheese biscuit
Sausage, egg and cheese biscuit
Buttered biscuit
Hash Browns – These are served in the form of
Plain hash browns
Hash Brown Scramble Bowl
Hash Brown Scramble Burrito
Bagel – Bagels are mainly available in two variants-
Sunflower Multigrain Bagel
Chicken, egg and cheese Bagel
Muffins –You can choose from the below-mentioned variants of muffin:-
English Muffin
Bacon, egg, and cheese muffin
Sausage, egg, and cheese muffin
Other than these food items Chick-fil-A also provides Greek Yogurt Parfait, fruit cups, and soft drinks on the breakfast menu.
When does Chick-fil-A Stop Serving Breakfast?
The Chick-fil-A provides breakfast for a limited time of the day which starts as early as 6:30 am and ends at 10:30 a.mor 11:30 p.m.
If you happen to live nearby the Chick-fil-A outlet, you can manage to have breakfast there even if you wake up late in the morning.
The breakfast chain stops at a time fixed by the particular outlet. The time varies over location again. You might confirm the time using the Chick-fil-A app.
When does Chick-fil-A Start Serving Lunch?
Don't be disappointed if you fail to grab your breakfast at Chick-fil-A. You can always wait for a few minutes if you have already stepped into Chick-fil-A.
They serve lunch right after the breakfast chain stops i.e., either after 10:30 a.m or by 11:30 a.m.