Are you one such person who is willing to spend just $5 to have the best meal at one of the best food chains of America?
If yes, McDonald's is the right place for you. McDonald's 2 for $5 Menu has made a comeback in 2020. This can prove to be extremely beneficial to you to curb down your expenses on food.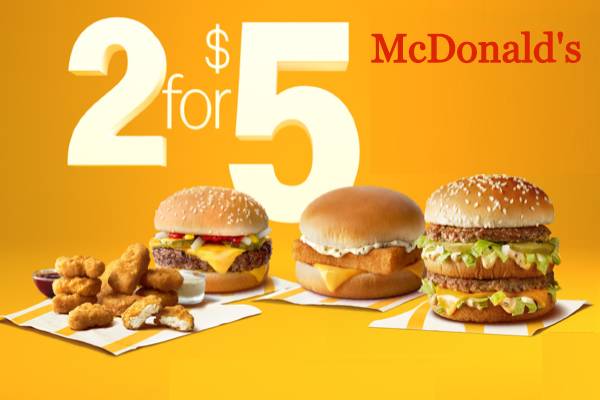 McDonald's, being one of the best American fast-food chains has a lot to offer. It is prominently famous for cheeseburgers, hamburgers, and French fries.
Other than these, there are breakfast items, chicken products, wraps, milkshakes, soft drinks, and desserts. Salads, smoothies, and fish items are recently added to the list of items.
Like every other competitor, McDonald's also offers a wide range of coupons, deals, and special offers.
Mcdonald's 2 for $5 is one such special deal you would never regret buying. Let us get into the details of it.
What is Macdonald's 2 for $5?
McDonald's 2 for $5 is also known as the "McDonald's Mix and Match" Deal. McDonald's makes quick moves when it comes to attracting customers through various deals.
2 for $5 is one such deal where customers get to have 2 of McDonald's delicious food items by just spending $5. It's affordable and worth eating.
McDonald's has been quite inconsistent in providing this amazing 2 for $5 deal in all the locations.
However, the deal has made a comeback in 2019 and is still available in various locations in and around the USA. You can follow McDonald's Facebook page, visit their official website (www.macdonalds.com) or download their app which is available on both iOS and Android.
You can have plenty of information on the availability of the specific deal at your preferred location and you can also order online.
What is on the 2 for 5 Menu at McDonald's?
McDonald's has a lot to offer only if you are ready to eat a lot. 2 for $5 has some of the best food items from McDonald's wonderful menu.
McDonald's Menu 2 for 5
Big Mac
Filet-O-Fish
Quarter Pounder with Cheese
Ten Piece Chicken McNuggets
Some of your All-time favorites are back and you get to choose two out of the following items:-
Big Mac: The Big Mac is probably the most famous item of McDonald's. It is a luscious burger made out of beef patties, special sauce, pickles, onions, American cheese, iceberg lettuce enclosed within a three-part Sesame seed bun.

This particular item is also healthy as McDonald's announced that it would remove all the artificial flavors, colors, and preservatives used from the Big Mac.

Filet-O-Fish: The ingredients used in the Filet-O-Fish are the regular bun, fish filet patty, tartar sauce, and half-sliced American cheese. Served on a hot and steamed bun, the Filet-O-Fish is an amazing item to have.

Quarter Pounder with Cheese: The McDonald's Quarter Pounder is a hamburger that weighs to a quarter a pound (pre-cooked). The burger consists of a 4.25 oz. beef patty (3 oz. when prepared).

It is then enhanced with dill pickle slices, raw onions, ketchup, and mustard. Quarter Pounder sesame seed bun is used which makes it even more irresistible.

Ten-piece Chicken McNuggets: We often think of this item as something unhealthy. But Mcdonald's has made even its chicken nuggets a healthy item to have.

The nuggets are made of 100% seasoned chicken breasts, which are a good source of protein ( 10 grams of protein per 4 piece serving). No artificial colors, flavors, or preservatives are added to it.
These four items are incredibly good and can pacify your instant food cravings. Choose two among these and have a happy date with your food just at $5.
What are the Famous Deals of McDonald's?
If you desire to spend less and eat a lot, McDonald's can be the right place for you. McDonald's,  considered as one of the best American food chains has a few amazing deals to offer.
McDonald's has pursued the objective of helping its customers to curb down their expenses on food. One of the famous and demanding deals of McDonald's is 2 for $5 which has been successful to a great extent. A few others are listed below:-
$0.99 Any Size McCafe Coffee
Large fries for $1
$1.99 McDouble
Hungry for More: