Subway has won the customers' hearts over the years by providing enough freedom upon the choice of toppings, fillings, and sides.
The Subway Lunch Hours Menu features the submarine sandwiches, shortened as 'subs', along with several other American lunch items. Here's is everything you need to know about Subway Lunch hours.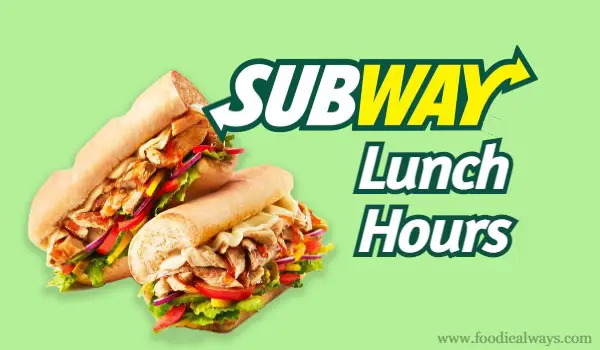 Some frequently asked questions about Subway Lunch Hours: –
What time does Subway open?
When does Subway start serving lunch?
Does Subway serve lunch all day?
What time does Subway lunch hours end?
What time does Subway close?
Here, we would be answering all these questions, along with other additional information about Subway.
Subway Lunch Hours – Details
Probably, the first query that pops up in your mind is When does Subway serve lunch?
The Subway Lunch Hours, as you can see extends all day long. Customers can order lunch at any time at Subway outlets while they are open.
Subway opens at 6:00 am (Mon-Sat). On Sunday, Subway opens at 8:00 am. You can order anything as your lunch at any time after it opens.
However, the starting time might vary a little across selective locations. Use the "Find Subway" option by clicking on the link of the Subway official website provided to confirm the operation hours.
Happy Hours:
Does Subway Serve Lunch All Day?
Yes, Subway serves its lunch menu all day long, i.e. 6:00 am onwards, till the outlet closes for the day.
Subway Lunch Hours Menu
The Subway Lunch Hours Menu is distinctively divided into six categories, each incorporating a good deal of choices.
As you know, you can customize each item on the list by adding ingredients as per the given choices. To make it clearer, we are listing the entire Subway Lunch Hours Menu below: –
Items
Description
1. All Sandwiches& Wraps
We've included these two categories as one because the options provided for both are the same.

The ingredients remain the same, except the form in which they are served. The sandwiches include a soft fresh bun and wraps include a warm tortilla.

Veg and Non-Veg, both the types are included in this section. You get to choose from a long list: –

Cali Fresh Turkey
Cali Fresh Steak
All American Club
Black Forest Ham
Buffalo Chicken
Chicken & Bacon Ranch
Cold Cut Combo
Italian BMT
Oven Roasted Turkey
Meatball Marinara
Tuna
Steak & Cheese
Spicy Italian
Veggie Delight

2. Protein Bowls
All those varieties mentioned above for sandwiches and wraps are available in form of Protein Bowls too.

In addition, the protein-loaded bowls incorporate ingredients such as Hickory smoked bacon, smashed avocado, fresh mozzarella, cheddar cheese mayo, baby spinach, cucumber, lettuce, black olives, red onions, tomato slices.

You can also add more fresh veggies to your bowl.

3. Fresh Melts
The melty goodness can be enjoyed in the following variations: –

Ham & Cheese Melt
Steak & Cheese Melt
Tuna Melt
Buffalo Chicken Melt
Italian BMT Melt
Chicken & Bacon Ranch Melt
Oven Roasted Turkey Melt
Meatball Marinara Melt
Spicy Italian Melt

4. Salads
Salads in Subway means a greater pile of veggies and thus more nutritious along with your favorite ingredient be it meatballs, buffalo chicken, Cali Fresh Steak or sweet onion chicken teriyaki.
5. Featured Products
If you visit Subway during its lunch hours, you must try these two favorites: –

New Steak Cali Fresh
New Turkey Cali Fresh

Both are served with freshly baked Multigrain bread.

6. Sides & Drinks
Subway brings to you a choice of sides and drinks to accompany your lunch. You can choose from the following: –

Chips
Cookies
Apple Sauce
Low-fat milk
Lemonade
Orange Juice
Vitamin water
12 oz Coffee
Soft Drinks
When does Subway Stop Serving Lunch?
The good news for Subway lovers is that the food chain serves lunch all day long. The food chain does not have a separate lunch or dinner menu, rather every item is available from 6:00 am onwards till the closing.
What Time Does Subway Close?
A significant proportion of the Subway outlets cease working at 1:30 am. Few might operate on a 24-hour basis.
For more information, one can use the restaurant locator by visiting the app or the website link mentioned before. You can not only locate the desired outlet but can also know the detailed timings about its closing.
Conclusion
Subway has successfully served its customers with a healthy lunch over the years. The Subway Lunch Hours are also made available through the drive-thru, pick up, and online order facilities.
We highly recommend you to grab a delicious and healthy lunch at Subway. We hope the information provided was beneficial.
Hungry for More: