Happy Hour at Sonic: Are you planning a treat for your family or friends? If so move to the Sonic happy hour, which will provide daily deals on your favorite sonic menu with the best value.
You can seize a cheap bite of the yummy favorite of yours from the Sonic happy Hour menu at half price.
Happy hour at sonic is the perfect location in the summer for a cool drink and also we can get some best value items on the Sonic happy hour menu.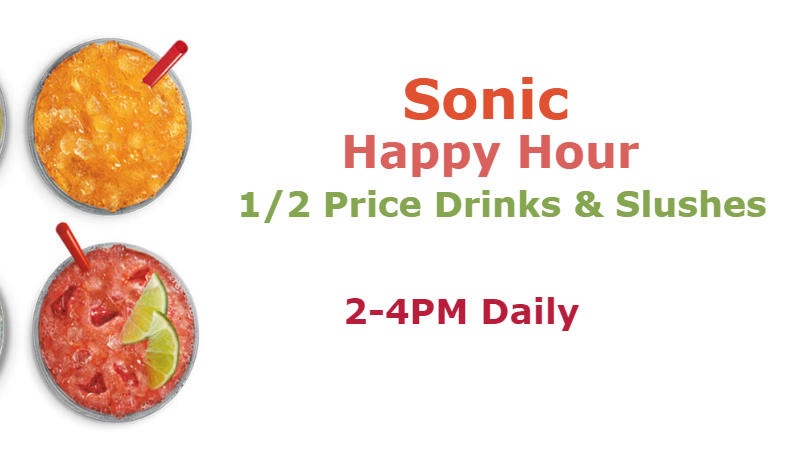 What Time is Sonic Happy Hour?
Sonic is having a great surprise happy hour deal during the summer. It is one of the amazing fast-food chains which is very popular and easy to afford because of its daily offers.
Prices of the Sonic happy hour may vary based on their location. On happy hour at sonic, you have to pay only half the price for drinks and slushes.
You can go to a happy hour at the Sonic restaurant after your kids are done with their school. Sonic happy hour provides the best deal of the day and the prices are very cheap.
| Famous Slushes | Real Fruit Slushes | Candy Slushes |
| --- | --- | --- |
| 1. Cherry Slush | 1. Cherry Limeade Slush | 1. Blue Raspberry with NERDS |
| 2. Blue Raspberry Slush | 2. Limeade Slush | 2. Grape Slush with NERDS |
| 3. Blue Coconut Slush | 3. Lemonade Slush | |
| 4. Mountain Berry Blast Slush | 4. Strawberry Real Fruit Slush | |
| 5. Grape Slush | | |
| 6. Cranberry Slush | | |
Every day we can get Happy Hour Benefits at Sonic from 2:00 to 4:00 pm and it's a very popular menu. If, you can download the Sonic App.
Timings for Sonic Happy Hour
In most of the locations, Sonic happy hour starts from 2:00 to 4:00 PM every day.
| Days | Happy Hours |
| --- | --- |
| Monday | 2 PM - 4 PM |
| Tuesday | 2 PM - 4 PM |
| Wednesday | 2 PM - 4 PM |
| Thursday | 2 PM - 4 PM |
| Friday | 2 PM - 4 PM |
| Saturday | 2 PM - 4 PM |
| Sunday | 2 PM - 4 PM |
Happy Hour on the Sonic App
Sonic extended offers on their popular Happy Hour Menu. You can get drinks, fruit juices, and slushes at half price on a regular menu price.
To improve customer service Sonic provides rewards and offers on Sonic App. You can this app in play store where you can get coupons and ½ price Slushes,
Drinks and hot dogs every day. Now download the Sonic App for free and start to enjoy tasty drinks with rewards and offers.
For more Sonic Drive-In offers to click on Sonic Happy Hour Page.
Benefits of Sonic App
You can get a FREE medium slushie or drink by downloading this app, you can use this app offer within 30 days.

You can send Sonic gift cards to your friends and family, which will surprise them with a fast and easy purchase.

Use the app to pay your checkout bill.

Get notifications of deals and offers as they become available.
The sonic happy hour menu beverages include regular Lemonades, Frozen Lemonades, Soft Drinks, Limeades, Ocean Water, Real Fruit, Iced Teas, and Candy Slushes.
You'll have to pay extra for any add-ins. This offer does not include Mini size, Combos, Ice Cream Slushes, Wacky Pack Kids Meals, and other offers.
Hungry for More: