Are you looking for a cheap meal at your favorite Steak 'N Shake restaurant? You must consider the Steak 'N Shake Happy Hour to save your money.
Steak 'N Shake is a well-known American food chain, most of which outlets are mostly concentrated around the Midwestern United States.
If you are a fan of the yummy steak burgers, sandwiches, and shakes of Steak 'N Shake, you must also know about the various amazing deals offered by Steak 'N Shake.
The Happy Hour is one such deal offered by them. Let us look into a detailed description of the Steak 'N Shake Happy Hour.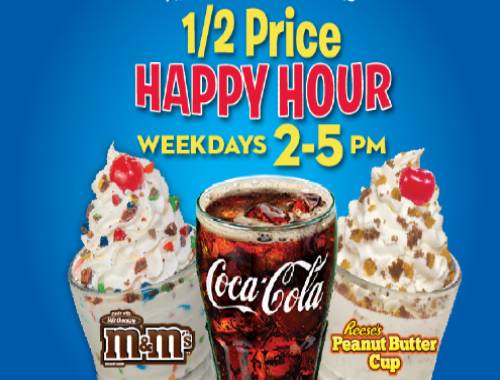 What is Steak 'N Shake Happy Hour?
Steak 'N Shake Happy Hour, one among those many deals which are liked by the customers.
Not only do the customers get to have food items at a reasonable rate during these hours but also they get to enjoy all the Steak 'N Shake Milkshakes at half of the prices.
This means if you are fond of milkshakes, you can have ample of them, spending only ½ of the prices of each milkshake. You can also avail yourself of various exclusive meal deals.
When does Steak 'N Shake offer its Happy Hour' Meal?
If you are willing to avail of the Steak 'N Shake Happy Hours, make sure you know when and for how long is it available.
The Steak 'N Shake Happy Hours extends from 2 to 5. That might be confusing, as in to know whether it's p.m. or a.m. To your surprise, the Steak N Shake Happy hours are from 2 p.m. to 5 p.m. and also 2 a.m. to 5 a.m.
Now there might be a little disappointment on the customer's side as the Happy Hour is not for Weekends. The Steak 'N Shake Happy Hour is only available from Monday to Friday.
What are the various food items available in the Steak 'N Shake Happy Hour?
Let us now look into the menu of the Happy Hour. For convenience, the menu has been divided into 3 broad categories- Milkshakes, specials, and drinks. Let us dive into the details of each category:-
Steak 'N Shake Happy Hour Milkshakes – Milkshakes are the favorite part for most customers. It becomes even more favorable when the milkshakes are available just at ½ of the actual prices. The milkshakes of the happy hours include:-
Specialty Milkshakes

Side by side Milkshakes

Classic Milkshakes

Fresh Banana Milkshakes
All these milkshakes are available at ½ of the price. This section is also now known as Half Price Happy Hours.
Steak 'N Shake Happy Hour Specials –In this category, one can available various meal deals, some of which are:-
2 for $3 Happy Hour deal – This deal avails the customers to customize their meals by mixing and matching any two of the following food items just at $3 –All American steak burger, steak frank, small thin and crispy fries, grilled cheese, and buffalo ranch steak burger.
4 for $4 Happy Hour Deal – This has managed to be one of the most popular deals of Steak 'N Shake. Under this, you can have four items just at $4. You can choose one burger or chicken finger along with fries, another cookie, and a side dish. You can have additional sides as well. Isn't this amazing?
One instance is – Triple Steak Burger with fries, additional side, and cookie. The sides available are applesauce, baked beans, a cup of soup, thin and crispy fries, creamy coleslaw, and a cup of chili.
Steak 'N Shake Happy Hour Drinks – The drinks are available at a lower price than the regular hours' price. In fact, in some outlets, you might also find the drinks of Happy Hours at ½ of the prices. The drinks menu includes the following:-
Soft Drinks and Iced Tea

Cherry Limeades

Orange juice

Chocolate Milk

Coffee/tea/hot chocolate
Other offers at Steak 'N Shake
Don't be disappointed if you cannot manage to arrive at Steak 'N Shake during the Happy Hours. You can still avail of other offers. Let us have a look at the other two most amazing deals by Steak 'N Shake:-
Steak 'N Shake Kids Free Weekends– If you are a kid or if you have some kids around you to treat, do take them to the nearby Steak 'N Shake outlet on a Saturday or Sunday evening. The food for all the kids under the age of 12 are lucky to grab the free food deals in Steak 'N Shake. Some of the Kids Plate options include- Chicken Fingers, Macaroni, and cheese, steakburger, mini corn dogs, etc.
Steak 'N Shake Rewards – If you are an absolute new customer, you might consider ordering online using their app. On purchasing your food through the app for the first time, you get a free milkshake. Also, an additional amount of $5 is added to your wallet whenever you make a purchase of $50 or more through the app.
Steak 'N Shake also provides coupons, collecting which you can have a good amount of discount.
Look for menu, location of the nearby outlet, coupons, and deals on the official website, App, or Facebook page of Steak 'N Shake. Happy eating!
Hungry for More: