If you are looking for casual American food such as salads, pasta, burgers, or chicken dishes, Applebee's Happy Hour might be the correct option for you.
Applebee's is an American food chain that is also on hold for the operation of Applebee's Neighborhood Grill + Bar Restaurant chains.
Not only does it focusses on Casual Dining, but it also serves its customers with alcoholic beverages. Most of the outlets feature an attached bar area.
What time is Applebee's Happy Hour?
Applebee's Happy Hour is unique. This is because they do not offer happy hour once a day. Yes, Applebee's has happy hours running twice a day at specific hours. Isn't that great?
Applebee's Happy Hour every day from 3 p.m. to 6 p.m. and from 9 p.m. to midnight.
Having the happy hour extended till midnight is fruitful because Applebee is capable of attracting customers even at midnight with its reasonable rates and special discounts.
Applebee's half-off appetizers are bringing families and friends from all around America to spend quality time and fulfill their appetite cravings.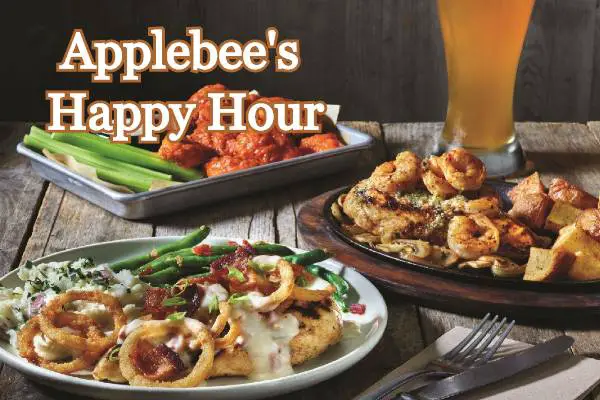 When does Applebee's offer its Happy Hour Meal?
Most of the food chains in and around America feature a stipulated number of hours which they refer to as 'Happy Hour'. Just like that, Applebee's also has its Happy Hour. Applebee's Happy Hour is too popular in the U.S.A.
The Applebee's Happy Hourenables you to have bar foods and drinks at reasonable rates.
So if you are hungry and have a knack for alcoholic beverages even when you run out of sufficient money, you can always consider Applebee's Happy Hour.
Even if you are underaged and are not a big fan of alcoholic drinks, you need not worry. Applebee's Happy Hour brings to you an amazing deal of appetizers and entrees.
What is Applebee's Happy Hour Menu?
Applebee has broadly classified the Happy Hours Menu into two sections. Let us look into each one of them:-
Applebee's Happy Hour Drinks: Since Applebee is famous for drinks, here are some incredible categories of drinks available at Applebee during the Happy hour at a lower price as compared to the others-
Tall Domestic Taps priced at $3.25

Margaritas and Long Islands priced at $4

Wine and Well Drinks priced at $3.50
You get to choose from these three above-mentioned Categories. There are many items enlisted under each of these three categories.
You can visit the official website of Applebee's or have a look at the menu to know more about the range of drinks offered at various locations of Applebee's outlets.
Applebee's Happy Hour Food (appetizers): Of course, you would need delicious food along with drinks. For this, Applebee is providing a good deal of half-off appetizers. It includes:-
Mozzarella sticks

Spinach and artichoke dip

Potato twisters

Cheese Quesadilla

Boneless Buffalo Wings

Crunchy Onions Rings

Chicken Wonton Tacos
How good is Applebee's Happy Hour Drinks & Appetizers?
To give you an idea of how the drinks and appetizers from Applebee's Happy hour taste like, we are adding a detailed description of a few items from the list.
House LIT – This particular item is priced at $3.50. You get an alcohol flavor in this drink along with the sweet and sour taste of booze. The color of the drink is mellow yellow and good to look at. Served in a long glass, this drink is worth appreciating.
Mozzarella Sticks – The perfectly cooked mozzarella sticks are good to order. There are 8 or 9 movers sticks and are very light, served with a perfect dipping sauce.
Grilled Chicken Wonton Tacos – If you want to have something heavy, you might order this. It has a smooth texture made out of chicken and coleslaw and seasoned with cilantro. The taste is good enough. You get a kind of American-Asia-Mexican combination of flavors while eating this.
Hungry for More: