If you want to have a good load of drinks, appetizers, and special dishes with huge discounts, Buffalo Wild Wings Happy Hour can be the most suitable for you.
The specialty of Buffalo Wild Wings lies in its Buffalo-style chicken wings. These are delicious and are complemented with rich flavored sauces and sides such as chicken tenders and legs.
The Buffalo Wild Wings Food chain is also famous for other items such as burgers, tacos, appetizers, salads, desserts, and various drinks- beer, wine, and alcoholic drinks along with other beverages.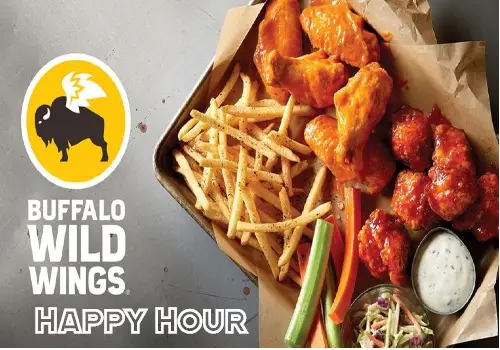 Buffalo Wild Wings has been known as an American food chain featuring casual dining alongside a sports bar.
The entire idea of having a meal at Buffalo Wild Wings is to fulfill your cravings with spicy chicken wings while watching sports.
Sports enthusiasts will always look up to grab a meal at such an amazing place. What you must know is about the Buffalo Wild Wings Happy Hour when you get to have food with special discounts.
What is Buffalo Wild Wings Happy Hour?
In the Buffalo Wild Wings Happy Hour, you get food items with special discounts. If you are the kind of person who wants to have a little light food before or after dinner, you are at the right place.
The timings of Buffalo Wild Wings Happy Hour are set in such a way that you enjoy having a light meal late at night or in the evening.
What time is BWW Happy Hour

Week of the Day
Opening Time
Closing Time

Monday

3:00 P.M

6:00 P.M

Tuesday

3:00 P.M

6:00 P.M

Wednesday

3:00 P.M

6:00 P.M

Thursday

3:00 P.M

6:00 P.M

Friday

3:00 P.M

6:00 P.M

Everyday (Late Night Happy Hours)

9:00 P.M

till close
What Time is Buffalo Wild Wings Happy Hour?
Unlike many of the food chains in America offering Happy Hour once in a day, Buffalo Wild Wings is way wilder in providing Happy Hour to its customers.
They have two Happy Hour slots. That means the Happy Hours are twice each day, except on Weekends.
It is a bit critical to understand the division of Happy hours in Buffalo Wild Wings. However, we are here to clear your confusion.
The Buffalo Wild Wings' Happy Hour is available every day from 9:00 p.m till Close. But from Monday to Friday, Buffalo Wild Wings also has another slot of Happy Hour from 3:00 p.m to 6:00 p.m. Here's a simplified way to understand:-
Monday – Friday: 3:00 p.m. to 6:00 p.m.
Everyday (Late Night Happy Hours): 9:00 p.m. till Close
Buffalo Wild Wings Happy Hour Menu
The food items included in the Happy Hour menu might vary, owing to the difference in the locations of the outlets.
Anyway, the menu which is mostly available in all the outlets include two categories:-
Drinks Special:--The Happy Hour in Buffalo Wild Wings consists of the following variety of drinks-
$3 domestic beers

$4 -$5 Imported and crafted beers

$3 Jack Daniels/ Captain Morgan/ Soda

$3 Select Premium shots
$3 Starters Menu:- The Starters menu of the Happy Hour includes the following:-
Mozzarella Sticks

Onion Rings

Chips and Salsa

Garlic Mushrooms

Mini Corn Rings
$5 Loaded Nachos
The availability of food items may widely vary. It is always preferable to call up your nearby Buffalo Wild Wings outlet or visit their website.
Hungry for More: