Taco Bell has come up with its Happy Hour or what they call "Happier Hour". These hours are between 2 p.m to 5 p.m.
Taco Bell Happy hour may not be, however, for all the outlets. But most of the locations in and around the USA offer these special hours to the customers.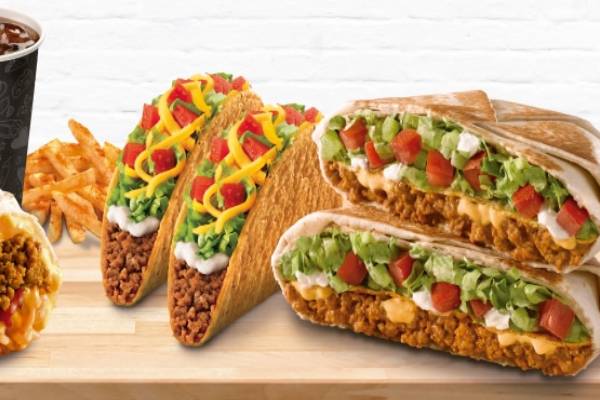 Taco Bell Happy Hours
| | | |
| --- | --- | --- |
| Day of the Week | Opening Time | Closing Time |
| Monday | 2 p.m | 5 p.m |
| Tuesday | 2 p.m | 5 p.m |
| Wednesday | 2 p.m | 5 p.m |
| Thursday | 2 p.m | 5 p.m |
| Friday | 2 p.m | 5 p.m |
| Saturday | 2 p.m | 5 p.m |
| Sunday | 2 p.m | 5 p.m |
Taco Bell is one of those American fast-food chains which serves food at a quite reasonable rate.
Before we get into a detailed discussion about Taco Bell Happy Hours Menu, let us get a bit familiar with the wide range of food that Taco Bell offers at reasonable rates.
Is eating at Taco Bell cost-effective?
Taco Bell has a good reputation and is the first choice of many Americans when it comes to choosing a fast-food restaurant.
Not only are the food items tasty but also spending money here is completely value for money.
For instance, Taco Bell has its Happy Hours when you can get delicious food items, costing $1 for each item. Taco Bell has also enlisted a few items under the Taco Bell Value Menu, which also cost $1 per item.
Here are a few famous items from Taco Bell Value Menu:-
Triple LayerNachos

Beefy Fritos Burrito

Spicy Tostada

Spicy Potato Soft Taco

Cheesy Roll-Up

Cinnamon buns

Cheesy bean and rice burrito

Shredded Chicken Quesadilla Melt
All the above items are just for $1. You can have more such items and drinks available at $1. However, these offers vary from one location to the other.
You can visit the official website of Taco Bell to find out more information on the available menu at a specific outlet. There can be exceptional cases when you might not find the food items available at $1.
The prices shown online are sometimes not similar to the prices you have to pay when you walk into the Taco Bell outlet.
The cost might be a little bit higher like $1.29 for a few items or $1.49 for the shredded chicken Quesadilla melt. You may call up the specific Taco Bell outlet and know about the prices beforehand.
What are the items available in the Happy Hour Menu of  Taco Bell?
The menu that makes these 3 hours special includes items such as loaded grillers, sparklers, freezes, soft drinks, etc. available for only $1 each. The menu includes:-
Loaded Potato Griller –You get crispy potato bites dipped in nacho cheese sauce, bacon and cream.
Beefy Nacho Griller –The beef pieces are seasoned with nachos cheese sauce and red tortilla strips.
Chipotle Ranch Chicken Loaded Griller –Grilled marinated white chicken along with chipotle ranch sauce and reduced-fat sour cream.
These are the main three types of grillers offered in the Taco Bell Happy Hours. All of these consist of loaded potato skins. The use of sauce and cream enhances the taste.
Besides the grillers, you can also order chicken wings or beef and cheese nachos for just $1. You can customize your drinks. Usually, freezes are available in the following varieties-
Mountain Dew Baja Blast

Pink Lemonade

Pina Colada
If you have a low budget, yet wish to have your lunch in Taco Bell, choosing your meal from the Happy Hour section can be a wise choice.
You get to have a light lunch along with ice-filled drinks for just $1.
Hungry for More: