Firebird's Happy Hour: Firebird's Wood Fired Grill is popular for its whole package of service, ambiance, and food. They provide the raw feeling of grill and celebration within nature's touch.
The name of the restaurant was Rocky Mountain Grill beforehand but later it was changed to 'Firebirds Wood Fired Grill' as the flame is their specialty and constant in every item.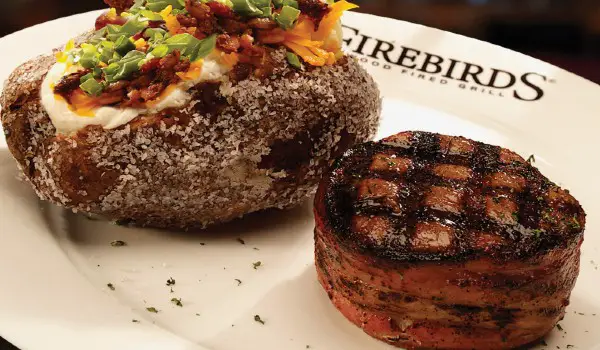 The Firebar is also there for drinks and wine. The core cooking is dependent upon woods and flames which give you an authentic taste and unique experience of barbeque and grill.
Like other restaurants, Firebirds restaurants also celebrate the Happy Hours when they give away a bunch of offers and discounts on their service and food.
Firebirds Happy Hour Offers
People who like to have a setup of barbeque grill in their get-togethers and parties can opt for Firebirds Wood Fired Grill as their destination.
The smoky flavor and the delicate dishes will surely enhance your hospitality. And what can be better if you get everything combined and that too with a discount!
Here we are going to talk about Firebird Happy Hour which brings exclusive discounts.
If you want to indulge yourself in the smokiness of grill with the quality food, best service, and cheapest price possible, then this article will be beneficial for you.
Firebirds Happy Hours deal includes both the cuisine and the Firebirds Bar area.
In Happy Hours you will get most of the dishes and drinks including martini and regular wines at a much lower price than the regular price. Continue reading to find out the menu and price.
What Time is Happy Hour at Firebirds?
Only except for the weekends, Firebirds restaurants have Happy Hours throughout the weekdays. Here is a standard schedule of Firebirds Happy Hour.
| | |
| --- | --- |
| Day of the Week | Happy Hours |
| Monday | 4:00 pm to 7:00 pm |
| Tuesday | 4:00 pm to 7:00 pm |
| Wednesday | 4:00 pm to 7:00 pm |
| Thursday | 4:00 pm to 7:00 pm |
| Friday | 4:00 pm to 7:00 pm |
If you want to enjoy the mouth-watering dishes of Firebirds in a penny-saving mode, you have to hop in on the weekdays as on weekends the regular charge is applied.
What is Firebird's Happy Hour Menu?
Firebird Happy Hour Menu has two sections – "Appetites" and "Beverages".
Appetites:
Philly Cheesesteak Eggrolls

Fired Up Shrimp

Crispy Fried Cauliflower

Chile Dusted Beef Tenderloin Medallions

Beef Sliders

Steak Tacos

Crispy Fried Ribs

Bavarian Pretzel and Samuel Adams Beer Cheese

Tuna Tacos

Goat Cheese Fritters

Lemon Whipped Feta
Beverages:
Double Black Diamond Martini (Firebirds Signature Martini)

Seasonal Craft Cocktails* (Jamaican Yacht Club, Blood Orange Basil Gimlet, Dirty Bird, Honey Ginger Smash, Siesta Sangria, Screwball Russian, Slow and Low Old Fashioned, etc)

Mocktails* (Cranberry Size Spritz, Blackberry No-Jito, Blood Orange Agua Fresca)

Selected Glasses of Wine

All Draft Beers

Well Drinks
The range and variations of the Cocktails and Mocktails can expand and contract.
The menu can change according to the location. Every Firebirds outlet may select items of their choice for the Happy Hour discount. The list of items we provided you with, is more or less the standard one.
Firebirds Happy Hour Price and Discounts:
The food and drink charges are cut off to a reasonable price during Happy Hours. We will be giving you a comparative list of both the regular price and the happy hour price so that you can have a clear idea of the discounts –
| | | |
| --- | --- | --- |
| Menu | Regular | Happy Hour |
| Bavarian Pretzel and Samuel Adams Beer Cheese, Crispy Cauliflowers, Beef sliders | $8 | $5 |
| Other Appetizers | $12 to $15 | $7 to $12 |
| Double Black Diamond Martini | $11 | $6 |
| Cocktails | $11 | $7 |
| Draft Beers | — | $2 off in every glass |
Apart from these, selected glasses of wine are worth 6 dollars. The Mocktails are just 4.95 dollars. Again, the discounts are subject to the specific outlet of Firebirds.
The one given here can be considered as a standard Firebirds Happy Hour discount.
The Happy Hour discounts and the wide range of Firebirds' delicious dishes are enough to draw your attention and persuade you to visit Firebirds Woods Fired Grill during the Happy Hours.
We will suggest you take a look at the menu and price list of your local Firebirds outlet. You can do so by visiting the official webpage of Firebirds Woods Fired Grill (https://firebirdsrestaurants.com/).
Hungry for More: