Ra Sushi Happy Hour: Ra Sushi bar and restaurant is one of the best places where you will get the authentic type of Sushi and Japanese cuisines along with the original flavors of Japan.
Ra Sushi has its outlets in almost 20 locations in America. They also serve cocktails, wines and other beverages.
Ra Sushi is like a small piece of Japan. When you will enter the bar the ambiance will strike you. It is a great place to go accompanied by friends.
The music, the flowing horde of people will give you the vibe of Tokyo's busy, vibrant StreetSide shops.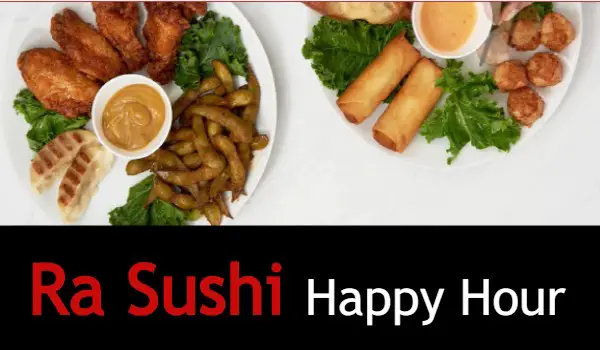 In this article, we are going to discuss Ra Sushi Happy Hours. Ra Sushi restaurant has the most attractive discounts on both food and drinks for you in its Happy Hours.
Be it sushi, Japanese fusion cuisine, wine, cocktails Ra sushi is giving away the best deals ever in the happy hours. So, check this article to know more about the Ra Sushi happy hours slot, menu, price and other details.
Also Read:
Ra Sushi Happy Hour Time Slot
What time is Ra Sushi happy hours? Each and every outlet of Ra Sushi maintains the happy hours according to the local time.
Usually, all the Ra sushi restaurants open at around 11 AM every day and keeps on serving till midnight. But for Happy Hours there is a different timetable.
Definitely, the super offers are not going to be there all the time. Here is a chart that you can follow.
MONDAY – FRIDAY: 3:00 PM TO 7:00 PM
MONDAY – SATURDAY: 10:00 PM TO 11:59 PM
SUNDAY – 3:00 PM TO 11:59 PM
The time duration may vary in some of the outlets based on your locality. What we gave is the typical Ra Sushi Happy Hours' time.
To know specifically about the Happy Hours of your nearby Ra Sushi restaurant, visit the official Ra Sushi website.
Choose your current location. Select your nearest Ra Sushi restaurant. Then click on the view restaurant page and click on the happy hours section.
You will find the nearest Chili's and the deals and offers over there.
Ra Sushi Happy Hour Menu:
Ra Sushi has the most delectable Japanese food items for you at the cheapest price. Happy hours are the ideal time to visit Ra Sushi for dining.
You will get the food at half of its price in the happy hours. Almost all the food items and special drinks are available in the Happy Hours.
But the list of foods varies in some restaurants. So, you have to check the menu before going to Ra Sushi. You can check it out from their official website. Let's have a look at their delicious menu.
SHAREABLE
"RA" CKIN SHRIMP (*signature dish)
FRIED ZUCCHINI
PORK GYOZA (Asian pot stickers cooked and served with ponzu sauce)
BAO BUNS ( 3 types of buns are available – "Ra"ckin' Chicken, "ra" kin' shrimp and Chashu Pork)
SPRING ROLLS
CHICKEN SKEWERS
EDAMAME SEARED TUNA (*raw) (*signature dish)
CRISPY SPICY TUNA (*raw)
SHRIMP SHUMAI
KARAAGE CHICKEN
SHRIMP TEMPURA
GARLIC PONZU YELLOWTAIL
SPECIAL ROLLS
VIVA LAS VEGAS ROLL (*raw)
CRUNCHY CALAMARI ROLL
CRUNCHY SHRIMP TEMPURA ROLL
RAINBOW ROLL (*raw) (*signature dish)
SPICY TUNA ROLL
SPICY SHRIMP ROLL
SPICY YELLOTALE ROLL (*raw)
CALIFORNIA ROLL (*raw)
NIGIRI
SALMON
SHRIMP
TUNA
YELLOWTAIL (*all raw)
DRINKS
WINES BY THE GLASS ($2 OFF ON EVERY GLASS OF WINE)
PATRON EMPEROR'S MARGARITA (*signature dish)
KIRIN SAKE BOMB
TITO'S VODKA
JIM BEAM BOURBON
CAPTAIN MORGAN
LUNAZUL TEQUILA
AVIATION GIN
BLUSHING GEISHA (cocktail)
ICON BABY UMAMI PUNCH (cocktail)
DRAGON BITE (cocktail)
SAKE SANGRIA (cocktail)
COCO LOCO – TRADITIONAL, STRAWBERRY, MANGO (frozen cocktail)
MANGO MARTINI
CUCUMBER COLLINS
SHISO NAUGHTY MARTINI (*signature dish)
Under the drinks section, along with these artisanal sakes, hot sake, "RA" CKIN cocktails, signature spirits, mules, martinis and special drinks, Ra Sushi is also known for serving a variety of beers including imported (STELLA, MODELO, CORONA), domestic ( BUDWEISER, BUD LIGHT, MICHELOB) and large format beers (KIRIN LIGHT, ASAHI, KIRIN ICHIBAN).
The 'signature dish' marked items are the unique creations of Ra Sushi chefs. You should definitely try their signature dishes.
Because these dishes are the best-reviewed and guests' favourite dishes as well.
Ra Sushi Happy Hour Menu Price:
In the happy hour all the items of Ra Sushi including the signature dishes and the special drinks, are available in its lowest prices.
The charge of everything including delicate foods along with the fabulous customer service and overall the downtown mood created by the boosting atmosphere is comparatively very low which is an incentive to the customers.
Let us have a look at the price chart during happy hours.
SUSHI AND OTHER ITEMS – WITHIN $3.49 AND $8.99
ALL THE DRINKS –WITHIN 2.00 AND 9.00 DOLLARS.
We hope this article has helped you to know about all the services provided by Ra Sushi in the happy hours.
In this post-pandemic situation, they are undertaking extra safety and hygiene measures for the sake of their customers. So you should definitely visit Ra Sushi and enjoy the deals.
Hungry for More: