Taco Bell $5 Box: Taco Bell is an American Fast food chain, offering nutritious meals to its customers. Over the years, Taco Bell has managed to meet the nutritional requirements of the customers by frequently upgrading the ingredients and food items.
It is famous for food items such as burritos, quesadillas, tacos, and nachos. All these items are available in so many varieties that will amaze you.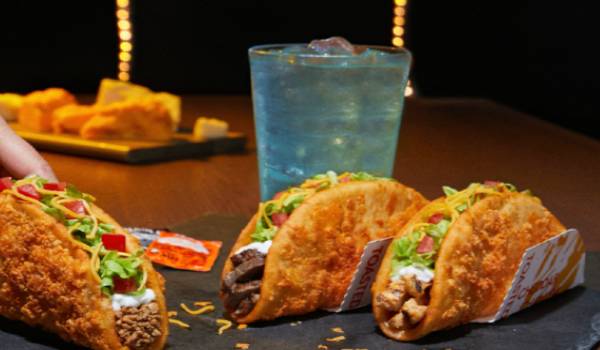 Hungry for More:
Taco Bell has many meal deals to offer along with a few specials added to the list. $5 Box is one among them which is not only affordable but also nutritious.
What is Taco Bell's $5 Box?
Taco Bell's $5 Box has been loved by Taco Bell fans. Though previously Taco Bell $5 Box was discontinued on fans' requests, it is back in a new and better way.
Just priced at $5, Taco Bell has made sure to provide a unique combination of items from the long list of its food menu carving out the best possible meal for you.
Taco Bell's $5 Box is also popularly known as the $5 Cravings Box. Enclosed in a box are a few items that will leave you licking your fingers till the last bite. Let's find out the details of it.
What is Inside the $5 Taco Bell Box?
What comes in the 5 dollar box at taco bell? Whenever one talks about the $5 Taco Bell Box, it does not mean one particular kind of a box special.
Taco Bell has so many outlets all over America. Originally named as the $5 Taco Bell Cravings Box now appears in a different form, making two separate varieties- Taco Bell $5 Chalupa Box and Taco Bell $5 Steak Nacho Box.
The variety of boxes differ in several locations. The details of two commonly known boxes are mentioned below:-
Taco Bell $5 Chalupa Box – Itis the most famous among all the other $5 box specials in Taco Bell and is also readily available at most of its outlets. The $5 Chalupa Box contains the following:-
One Nacho crunch double-stacked Taco
One crunchy taco
One Chalupa supreme
One medium drink
Taco Bell $5 Steak Nacho Box:- This is a newly introduced box special in Taco Bell. It has rightfully included ingredients from all the food groups to be a perfect nutritional box meal. It includes the following:-
Tortilla chips topped with a double portion of marinated steak
A 3 cheese blend
Pico De Gallo
Nacho Cheese sauce
Refried beans
Reduced-fat sour cream
A medium soft drink
How Many Types of Taco Bell Boxes are Available?
As already stated earlier, Taco Bell has a variety of box specials. Taco Bell constantly experiments with its meal deal and thus they keep on changing.
Also, the availability depends on the location. Here are a few $5 Taco Bell Boxes which you are likely to find in most of the locations besides the two mentioned above:-
Taco Bell's Craving deal
Doritos Taco Box
Double Crunchwrap Box
Nachos Fries Box
$5 Triple Melt Box
$7 Deluxe Box
Can the Taco Bell Boxes be Customized?
Yes, absolutely. You can modify to mix and match the items of your Taco Bell box.
Taco Bell gives you an option of customizing your own Five Dollar Box by combining the following items:-
Pick any two out of – Soft taco, hard taco, beef burrito, and bean burrito.
Chips and Nacho cheese or regular fries
Cinnamon twists or caramel apple empanada
The choice of sauce includes – Cool ranch sauce/ Paprika pepper sauce / Smoky chipotle sauce
A 20- ounce soft drink/soda
So many options would make anyone have an awe reaction. Taco Bell has more to offer on other boxes too.
You can also choose the desired items for your meal box by ordering the $7 Deluxe Box. This new Combo Box comes with the following items:-
A SteakChalupa Supreme
A beefy five-layer burrito
A nacho cheese Doritoslocos taco
A medium fountain drink
The Chalupa,  burrito, and the Doritos locos taco can be customized while ordering and you could have your desired toppings.
The items can be even swapped out for including more of the other items. However, the pricing may be affected due to this.
On visiting your nearby Taco Bell outlet, you can have several options for your meal. You can find out the nearby Taco Bell restaurant with the help of their official website too. ( www.tacobell.co.in )