KFC 2 for $6: Kentucky Fried Chicken, or as it is popularly known as KFC, is ranked second on the list of the largest American fast-food chains.
KFC has been known for its "Finger-Licking Good" chicken items which consist of chicken wraps, chicken wings, chicken nuggets, hot wings, grilled chicken, and many more.
It does not restrict itself only to these chicken items. It also has several menu deals on its Menu. One of the famous Menu deals is KFC 2 FOR $6.
The KFC 2 for $6 deal has an increasing fan base. In this article, we shall discuss this special deal from KFC and discuss the contents of the deal in detail. Let us progress further.
Hungry for More:
What is KFC 2 for $6?
KFC 2 for $6 is insanely famous for being affordable and delicious at the same time. You get to have two famous items from KFC's menu only at $6.
You can choose from 4 or 5 alternatives according to your preference. To have a chicken-friendly meal, you just have to spend $6 to suffice your cravings.
Also, it is cost-effective having two items combined in a single deal for $6. Ordering the items separately may cost you more.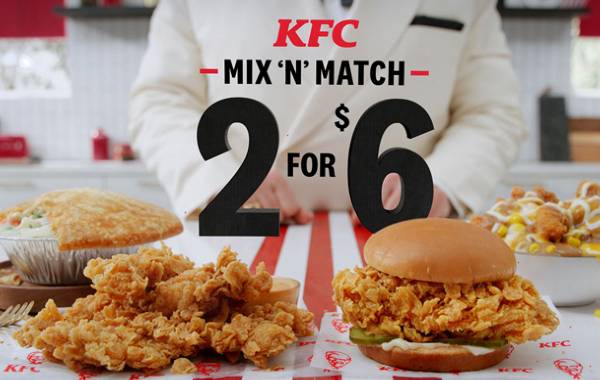 There are mainly four items you can choose from in the 2 for $6 deal. Let us get into the details of each item.
What Comes on KFC 2 for a $6 Deal?
The items available on KFC 2 for $6 deal includes – Famous Bowl, crispy colonel sandwich, pot pie, and crispy chicken tenders. These items have been described so that you can choose your meal wisely.
Famous Bowl,
Crispy Colonel Sandwich,
Pot Pie
Crispy Chicken Tenders
1. Famous Bowl:
KFC's Famous Bowl has been loved by customers since its launch. If you order the famous bowl along with a medium bowl separately, it might cost you $5.59.
But here in KFC's 2 for $6 meal, not only do you get to have a famous bowl but you also get an additional item of your choice.
The famous bowl or the famous mashed potato bowl consists of a bed of mashed potatoes. It is layered with popcorn chicken and sweet corn.
You also have the entire thing topped with KFC's special gravy and 3- cheese blend. The crunchy popcorn chicken that comes with mashed potatoes is big and makes the entire Famous Bowl cost-effective.
2. Crispy Colonel Sandwich:
The crispy colonel sandwich features a plain toasted bun on which a crispy fried chicken filet, pickles, and mayo are placed.
The crispy filet is extremely thick and meaty. It has mild seasoning and a fluffy and crispy texture all over. The pickles and mayo add to the flavor of the entire item.
It is relishing to eat a crispy colonel sandwich. It can suffice your instant cravings, leaving you licking your fingers till the last bite of it.
If you order a crispy colonel sandwich separately, it might cost you $3.99. This particular item is also available with other meal deals of KFC. But having it paired with any of the other items of 2 for $6 deal is equally worthy.
3. Pot Pie:
This item has not gained much attention as that of the other two mentioned above. But this item is worth ordering.
If you order it separately, you have to buy it for $3.99 but in the 2 for $6 deal, you can have it paired with another major item from the list.
The pot pie or the Chunky Chicken pot pie comes wrapped in foil. On opening it, you find the pie filled with shredded KFC chicken.
It has a buttery texture and is light. The crust is a little thick but in the center, it is completely soft and crunchy. You are bound to appreciate the filling of the pot pie.
It is rich in pieces of KFC chicken, peas, carrots, and potato pieces. All these are combined with a tasty sauce inside the pot pie. Every bit of the pie is good.
4. Crispy Strips:
The last item of the 2 for $6 deal is the crispy chicken strips. These are mostly the same as the old chicken strips.
You can have them as a side item, paired with any of the above items. This is a popular item and is paired with many of the other meal deals.
The crispy chicken strips are crispy and light. They are mostly seasoned with black pepper and salt. But the overall taste is even enhanced by the dippings. 
When is the KFC 2 for $6 Deal Available?
You are likely to find the deal available anytime at the participating locations. Though the 2 for $6 is a limited-time deal as declared by KFC, yet you can consider it being available almost always during the operating hours.
It is better if you look into KFC's official website (www.kfc.com)to confirm the availability of the 2 for $6 deal at your preferred location.
Also Read: