KFC 5 Dollar Fill UP: 'Delicious', 'palatable ', 'luscious ', 'mouth-watering', 'finger-licking good' are some of the phrases that pop up in our mind when we think of KFC.
Kentucky Fried Chicken, in short KFC, is an American restaurant chain. It is specialized in providing several items made out of chicken and is placed second on the list of largest restaurant chains, right after Macdonald's.
KFC had a remarkable turnaround when it declared the $5 Fill-up and the $5 box meals meal. The meals are available just at $5.
Box meals have especially gained popularity all over the U.S. The meals include an entree, a drink, several sides, and a dessert all for just $5. Isn't amazing to have a meal boosted with chicken?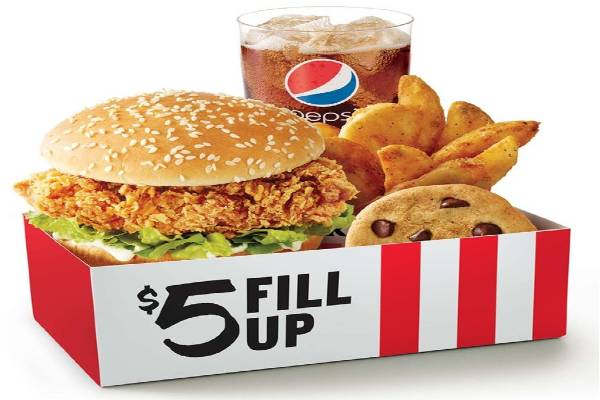 If you're a diehard fan of items such as chicken wraps, crispy chicken strips, hot wings,  popcorn chicken, grilled chicken, chicken nuggets, and several other such tasty chicken items, you are bound to have a look at KFC's menu.
Especially if you are willing to have a grand chicken meal only at an expense of $5, you have to take a look at the KFC $5 box meals offered by KFC. Here are all the necessary details.
New KFC 5 Dollar Fill UP 
The newly launched $5 Fill Ups is a newly introduced offer in KFC. In a short period, it has gained the attention and love of many customers.
The fill-ups are also available in boxes. So basically you can consider the $5 Fill Ups, one among the box meals of KFC.
It is quite affordable and has five different varieties. What comes in a $5 fill-up at KFC? here is a detailed discussion of all the varieties of KFC $5 Fill Ups:
$5 Fill Up 2- piece Drumsticks and thigh– The meal comes with a side of mashed potatoes, a biscuit, medium drink, and chocolate chip cookie.
$5 Fill Up Potpie – This particular meal includes KFC's Classic Pot Pie along with a medium drink and a chocolate chip cookie.
$5 Fill Up Extra Crispy tenders –This meal includes chicken strips, mashed potatoes, and a medium drink. You get to have a dipping sauce for your tender chicken strips and also a gravy. KFC includes three extra crispy chicken tenders and a chocolate chip cookie.
$5 Fill Up Famous Bowl – In a Colonel's Famous Bowl, there is corn, mashed potatoes, and crispy chicken. These are accompanied by gravy and shredded cheese. This is particularly served in a bowl and hence cannot be considered as a Box meal. It also features a medium drink and a chocolate chip cookie.
$5 Fill Up Chicken breast- This meal can be a heavy one as it features an 8-ounce chicken breast along with mashed potatoes, gravy, a chocolate chip cookie, and a medium drink.
What is KFC $5 Box?
KFC has successfully been able to adapt its menu to give the best services to the customers of its size.
KFC has come up with several offers and deals, combining several items from its menu in a single box which is known as the Box Meal.
There are several Box meals offered by KFC. The price ranges and the type of box, of course, vary depending upon the location.
What comes in the $5 box at KFC?
At $5 there is Hot & Spicy Lunch Box, which is popular all over the United States. This is a special box meal for lunchtime consisting of the following:-
One piece of Hot and Spicy chicken

One Wicked Wing

Regular potato and gravy

Regular chips

A small soft drink
All these items within one box are refreshing to eat and enjoy. You can expect this meal to be available only during lunchtime which is till 4 p.m.
This box meal also enables you to have more of any particular item by spending a few more bucks. For instance, you can upsize the chips to a larger one for $1.60 or upsize the drink to a regular one by spending an extra $1.40.
Besides this specific $5 Big Box, KFC keeps on upgrading and introducing new box meals for which you need to tune into the official website of KFC (www.kfc.com ).
These were some of the famous $5 Fill Up. Some of them might be enclosed within a box and some may be served on a plate or in a bowl.
The cost may slightly differ due to the added taxes. But all of these are s delicious and affordable that you would not regret stepping into KFC and relishing these meals.
Hungry for More: