Subway Wrap Calories: Subway every time rolled out with a new Signature wrap Collection, featuring savory wraps in different flavors.
Check Subway Calories and Carb counts for Signature wraps. Subway Signature Wraps are loaded with meat and packed with taste.
Those contain the traditional sandwich ingredients, wrapped inside a tortilla. Try them with savory ingredients like guacamole, Provolone cheese, and Caesar dressing.
According to Subway's nutrition page, a wrap contains 400 calories. Smart healthy eaters will check the nutritional values before they order a Subway wrap, because the wraps are thinner, doesn't mean they pack in fewer calories and fat than the bread.
It's a great way to make a good choice and order a lower-calorie wrap.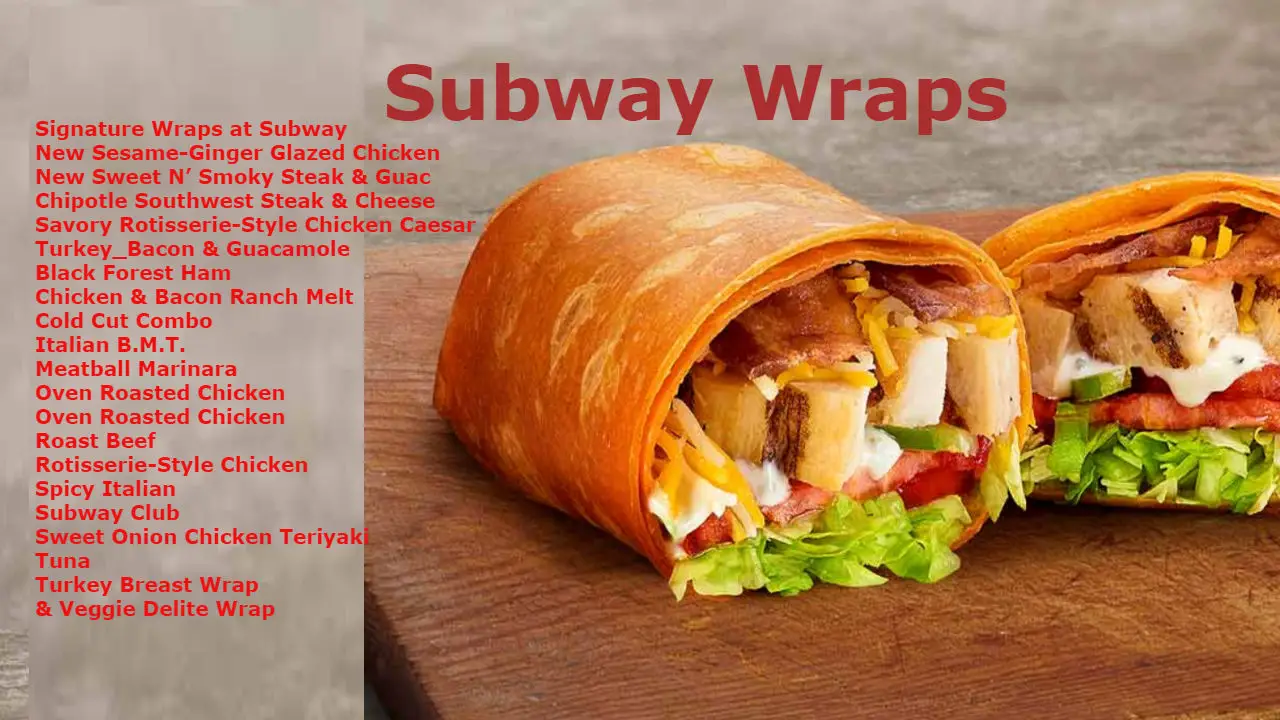 Subway Wrap Calories
Remember that you can customize any wrap at Subway. Many Subway wraps are nutritious and higher in both fat and calories.
But not all wrap choices are good for your diet. To keep your healthy eating plan on track, it's important to check Subway wrap calories and carb count before you order.
Important Note: The nutrition information is based on standard product formulations and serving sizes.
The subway protein-packed wraps come in bold, tasty choices — all featuring double the meat of an average 6-inch sub wrap, plus a delicious combination of veggies, cheese, and sauces.
Subway Signature Wraps
The new verity of Signature Wraps at Subway in the U.S; New Sesame-Ginger Glazed Chicken Wrap, New Sweet N' Smoky Steak & Guac Wrap, Chipotle Southwest Steak & Cheese Wrap, Savory Rotisserie-Style Chicken Caesar Wrap, Turkey_Bacon & Guacamole Wrap, Black Forest Ham Wrap, Chicken & Bacon Ranch Melt Wrap, Cold Cut Combo Wrap, Italian B.M.T. Wrap, Meatball Marinara Wrap, Oven Roasted Chicken Wrap, Oven Roasted Chicken Wrap, Roast Beef Wrap, Rotisserie-Style Chicken Wrap, Spicy Italian Wrap, Subway Club Wrap, Sweet Onion Chicken Teriyaki Wrap, Tuna Wrap, Turkey Breast Wrap & Veggie Delite Wrap.
Subway Wrap Ingredients
Subway wraps are standard tortillas made of the following ingredients: bleached enriched white flour, water, hydrogenated vegetable oils, and soybean oil.
The Signature wraps also contain less than 2 % of vital wheat gluten, baking powder, salt and sodium propionate, and potassium sorbate as preservatives.
In Subway there is an option to customization of your wrap; customers always have the choice to create their Signature Wrap. "Make It What You Want" using the wide variety of ingredients available at all Subway restaurants.
Subway every time paying attention to their menu step up as part of its commitment to meet the consumer interest and provide a great experience for the millions of customers around the world who visit Subway every day.