Burger King, known for being the second-largest fast-food hamburger chain in the world has now a new range of coffee lines added to its menu.
Burger King Iced Coffee happens to be one of those coffee items that deserve a special mention.
This article shall focus on the titbit of information about Burger King Coffee and BK Cafe where one can get hold of the amazing BK Iced Coffee.
What is Burger King Iced Coffee?
The emergence of BK Café witnessed the increasing demand for Burger King Iced Coffee.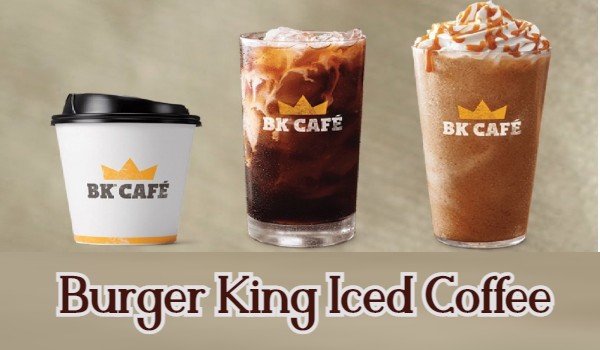 The Burger King iced coffee is made of 100% arabica beans combined with silky cream.
It comes with a choice of flavored syrups -Vanilla and Mocha. One gets to choose any one of them. Both the syrups are capable of providing a real cool, delicious and coffee experience to any coffee lover.
Brewed with the best coffee beans, ice, and syrup, the BK Iced Coffee is something one has to try.
Hungry for More:
How Many Calories in Burger King Onion Rings
How Many Types of Burger King Iced Coffee is Available?
Majorly, there are three different flavors of iced coffees available in Burger King. Those are:
Along with the preferred flavors, one can also top it with syrup for enhanced flavor.
The Burger King Cafe also provides Frappes. The frappes can be good for those who have an intense craving for ice coffee. One can add syrups to the frappes as well.
The Frappes Include Two Main Flavours:
Mocha Frappe, one that includes a blend of ice, coffee, and chocolate. In addition, it is topped with a chocolate swirl and whipped cream.
Another variant of rappers that is available is the caramel frappe. It consists of a blend of ice, coffee, and caramel along with whipped cream and caramel swirl as toppings.
What is the Price of Burger King Iced Coffee?
The Iced Coffee at Burger King starts at $1.89. On the other hand, if one is fond of cold coffees, frappes are also available just at $2.99.
These prices are set for the small-sized Ice Coffee. The rates differ according to the size. The prices of the BK Iced Coffee also vary according to the flavors. Here is a list which could guide you through the exact prices, according to the sizes: –
| | | | |
| --- | --- | --- | --- |
| BK Iced Coffee | Small | Medium | Large |
| Plain Iced Coffee | $1.89 | $2.99 | $3.69 |
| Mocha Iced Coffee | $1.00 | $3.19 | $3.69 |
| Vanilla Iced Coffee | $2.69 | $3.19 | $3.69 |
Here is a list of Prices for the Smooth Roast Iced Coffee: –
Smooth Roast Iced Coffee (Small) – $1.89
Smooth Roast Iced Coffee (medium) – $2.39
Smooth Roast Iced Coffee (Large) – $2.89
The cheap pricing of the iced coffee however doesn't mean that the quality is compromised. The quality of the Iced Coffee at Burger King is as good as any of its other competitors.
Where can I get Burger King Iced Coffee?
If you are to go out only for having coffee, BK Café would be the best choice. The BK Café serves perfectly brewed and balanced coffee to its customers.
Back in 2019, Burger King came with its latest development which is through establishing BK cafes at several places. The franchisees of BK cafe can be found all over the USA and in many countries altogether.
The BK Cafe came up with an interesting deal whereby customers are encouraged to take a subscription of 30 days.
This subscription is made available just at $5. Anyone with this subscription can enjoy any type of coffee from BK Cafe, all the 3o days in a row. The only restriction is that one can enjoy only one cup of coffee a day, using this subscription.
Hence, if you are a cold coffee lover and wish to have Iced Coffee Burger King every day, you can choose to buy the subscription and save a lot of money, altogether.
Other than coffee, one can also have yummy sandwiches, pancakes, and hash browns in BK cafe. An Enormous Omelette Sandwich along with a large plain Iced coffee is good to go with.
Other Burger King Coffee: –
Besides the Iced Coffee Burger King, the Burger King Coffee menu includes other notable Burger King Coffee drinks. For example, the Premium Coffee at BK Cafe has been an absolute favorite of many.
The Premium Coffee range includes a various premium range of coffees such as latte, flat whites, short blacks, long blacks, cappuccinos, and mochaccinos.
All of these are made of 100% roasted Arabica coffee beans. The coffees are brewed with care and topped with frothy milk to make it. Decafs are also available at BK Cafes.
Conclusion
BK Café is a highly recommended place to grab your coffee from. Cold coffee lovers would love the wide range of Burger King Iced Coffee.
Returning to this place again and again to have well-brewed coffee is worth the time and money.
Also Read: