McDonald's Introduced McCafe Menu to serve quality and great-tasting menu to their customers every time they visit.
McCafe has been trying to expand its coffee menu, and the McDonald's French Vanilla Cappuccino is the newest addition to the list. We all know, coffee helps many people start their day.
If you are one of those people, McCafe Menu is a great option. Here we find out the most popular "McDonald's French Vanilla Cappuccino Calories" with ingredients and Nutrition information.
All coffee lovers need to be aware of the high-calorie content i.e cream or sugar are added, though, the calories can start to add up fast.
McDonald's offers French Vanilla Cappuccino Coffee with whole or nonfat steamed milk, bold espresso made from sustainably-sourced beans, fluffy foam, and rich French Vanilla flavor.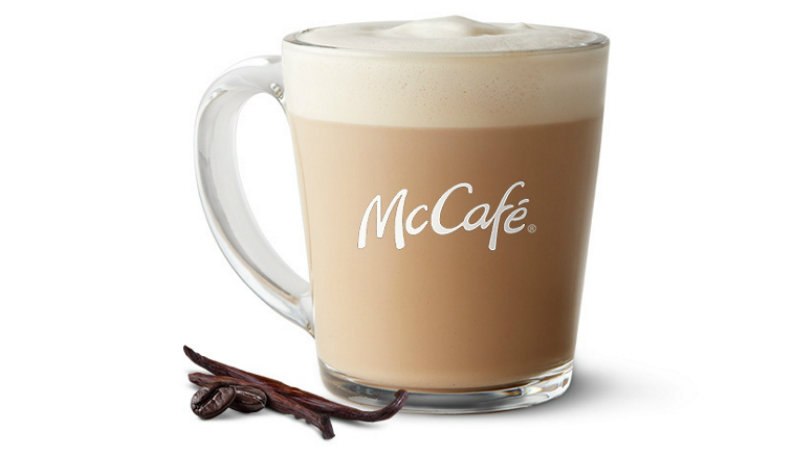 How many calories are in a McDonald's French Vanilla Cappuccino?
How many calories are in McDonald's French Vanilla Cappuccino Coffee? Here I shared nutrition information based on standard Ingredients in coffee and serving size.
| Nutrition Summary | Nutrition Values |
| --- | --- |
| French Vanilla Cappuccino | 190 Calories |
| Total Fat | 5g |
| Total Carbs | 30g |
| Protein | 6g |
| Saturated Fat | 3g |
| Trans Fat | 0g |
| Cholesterol | 15mg |
| Sodium | 70mg |
| Dietary Fiber | 0g |
| Sugars | 29g |
| Vitamin A | 260IU |
| Calcium | 180mg |
| Iron | 0mg |
There are 190 calories in one serving cup of McDonald's French Vanilla Cappuccino Coffee. Track McDonald's nutrition facts, carbs, fat, and other key nutrients using Nutrition Calculator.
Ingredients & Allergens
Whole Milk: Milk, Vitamin D3 Added
French Vanilla Syrup: Ingredients used Sugar, Water, Potassium Sorbate (Preservative), Natural Flavor, Caramel Color, Citric Acid.
Water
Espresso
If you would like to customize McCafe French Vanilla Cappuccino Coffee Ingredients, so how do you calculate calories?
Adding or removing Ingredients & Allergens will increase or decrease the calories slightly, depending on the type and ingredients you add.
The McDonald's Nutrition Calculator helps dieters and healthy eaters to customize their orders and cut both fat and calories.
Nutrition Information
McDonald's French Vanilla Cappuccino Coffee Contains 190 calories. Because of some key Ingredients in McCafe French Vanilla Cappuccino, while most of the calories are from carbohydrates 30g.
However, it contains 5 grams of fat, of which 3 grams Saturated Fat, 6 grams come from the Protein.
The French Vanilla Cappuccino also has 29 grams of sugar, 15mg cholesterol, Vitamin A 260IU, and Calcium 180mg.
Hungry for More: