McDonald's is back with their delicious "Pumpkin" and "Cream Pie" once again. This is surprising news for pumpkin pie lovers.
Especially the regular customers of McDonald's are celebrating the return of the creamy, delicious signature pumpkin-cream pie of McDonald's. This item is McDonald's 2020 Fall addition.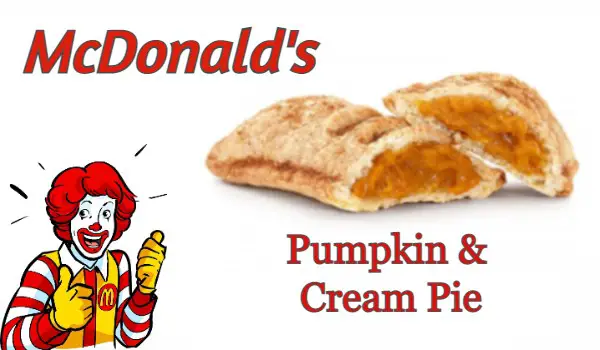 In this article, we are going to give you detailed information about McDonald's new 'Pumpkin and Cream Pie'.
If you are very eager to try it, keep on reading because we are going to share some interesting facts about the pumpkin pie such as its price, ingredients, taste, calorie measurement, etc.
McDonald's Pumpkin Pie
McDonald Pumpkin and Cream Pie: McDonald's is especially famous for its Burgers, French fries, and other snacks.
But one of the underrated items that McDonald's sells is their range of pies. The sweet and creamy taste of McDonald's pies is not known to many. But the small pocket pies are a mini treat to your taste buds.
The perfect balance of the crunchy outside and the creamy inside gives a heavenly taste. The filling of fluffy cream on one side and sweet pumpkin on the other side completes both the taste and texture of the pie.
The Pumpkin Pie is available now in the Fall only as a seasonal treat. They also sell Apple Pie throughout the rest of the year.
McDonald's Pumpkin and Cream Pie is a little surprise that contains smooth and sweet Pumpkin piping and buttery rich cream.
The pastry crust with crunchy corners and perfect airy lairs compliments the filling. The iconic combination of a well-baked pastry sheet and the rich creamy filling gives it the texture of a traditional pie.
In a single bite, you will feel the combined taste of the pumpkin and the cream. The pie is covered in Cinnamon sugar which adds a glazy look.
Pumpkin Pie Ingredients:
Enriched Flour (Bleached Wheat Flour, Niacin, Reduced Iron, Thiamine Mononitrate, Riboflavin, Folic Acid), Pumpkin, Water, Palm Oil, Sugar. Contains 2% or Less: Cream Powder (Cream, Non-fat Milk, Sodium Caseinate), Modified Food Starch, Salt, Yeast, Spice, Sodium Alginate, Calcium Sulphate Dihydrate, Disodium Diphosphate, Tetrasodium Diphosphate, Potassium Sorbate (Preservative), Cream of Tartar, Sunflower Lecithin, L-Cysteine (Dough Conditioner), Yeast Extract, Enzyme, Beta Carotene (Colour).
Contains Milk, Wheat.
McDonald's Pumpkin Cream Pie Nutritional Components & Measurements
This Pie contains a total of 250 calories, 12gm fat, 33gm carbohydrate, and 3gm protein. Total Sugar is 12gm.
Price: The price of McDonald's Pumpkin and Cream Pie is only $0.89 or $1.50 for two pies. It's an affordable and fair cost for such a sweet treat.
CUSTOMER REVIEW: People are loving the taste of seasonal pumpkin and cream together. Again some of them like the apple pie of McDonald's more. So the reaction is quite mixed.
As McDonald's Pumpkin and Cream Pie is a seasonal addition, this will be limited for a time. So hurry up! Grab your pie today.
This pie will be available only in the participating McDonald's outlet. Visit their official website to know more.
Hungry for More: