The McDonald's value menu is the combination of menu items at fast-food restaurants that are designed with less expensive items. McDonald's Value menu and value meal are quite different menus.
The quantity and number of items included in McDonald's value menu are based on the price (cost to like to spend). Usually, these items in the "Value Menu" are priced for less than one dollar(1$).
The value menus are introduced based on the tastes and preferences of the customers.
Within no time the value menu became more popular and McDonald's keep on changing their value menus.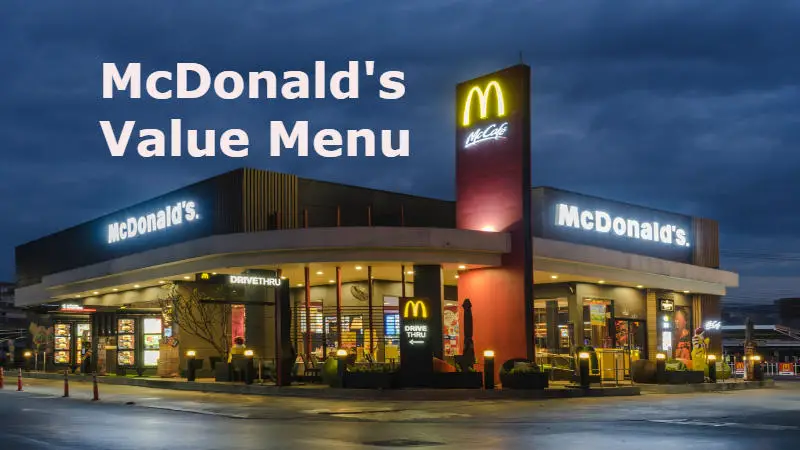 McDonald's Value Menu
For the dynamic changes in the value menu, the customers show more interest in value menu items than general items.
The McDonald's value menu relaunched the 2 for 5$ mix and match deal with surprisingly new choices, and also declared that included more options on the dollar menu.
2 for 5$ Mix and Match Deal:
The 2 for 5$ mix and match deal is returned with a limited time with explicitly new choices.
The 2 for 5$ value menu contains Big Mac, Filet-O-fish, 10 Chicken McNuggets, but you can replace the 10 Chicken McNuggets with Quarter pounder with cheese.
This Quarter pounder with cheese is a hamburger made of precooked patty which is the weight of a quarter of a pound (113.4g)with cheese.
What does 2 for 5$ Mix and Match Deal Contain:
Quarter pounder with cheese or
10 Chicken McNuggets
Big Mac
Filet-O-fish
It's quite fascinating that Mc Donald's is providing these items for just 5$ otherwise it may cost more than 5$.
Not only the 2 for 5$ mix and match deal McDonald's has introduced dollar (1$,2$,3$) value menus.
Dollar Menu 1$ 2$ 3$
The Mcdonalds' enhanced the Dollar menus (1$,2$,3$) with soft drinks and a variety of sandwiches and burgers of your choice.
The Dollar menu (1$ value menu) contains Mc Chicken, Sausage Burrito, Cheeseburger, and any kind of soft drink.
The two-dollar menu (2$ value menu) got the fame with 2 pc. Buttermilk Crispy Tenders, Sausage Mc Griddles, bacon Mc double, and a small Mc Cafe beverage.
The three-dollar menu (3$ value menu) has been picked with the triple cheeseburger, Sausage McMuffin with Egg, Classic Chicken Sandwich, and a happy meal.
If you want to know the details of the "McDonalds Dollar value menu" you can visit our website.
The McDonald's Value menu is often selected in most of the restaurants based on the customers' tastes. If you are the person to select your order quickly then you can go to value menus.
The Value menu comes under less expensive items so it reduces your time and cost to place an order.
Hungry for More: