Who does not like Starbucks? If you enjoy Starbucks, the Happy Hour Deals are ideal for you; you can save money on your drinks! Starbucks Happy Hour is a pretty sweet deal.
Starbucks coffee is well-known all over the world, with over 30,000 stores. Starbucks attracts customers not only by offering excellent coffee but also by hosting happy hours every few weeks.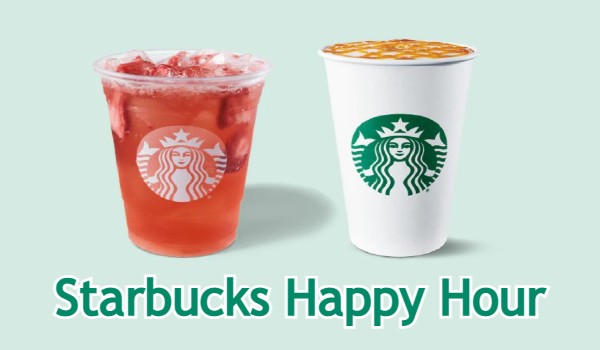 What Time is Starbucks Happy Hour?
Starbucks Happy Hour is only happened on certain weeks, and only on Thursdays. But it's always a Thursday from 2 p.m. to 7 p.m. at participating location. To receive
Starbucks Happy Hours alerts you can always refer to their  Starbucks app on your phone.
| | |
| --- | --- |
| Open | Thursday |
| Time | 2 p.m to 7 p.m |
| Location | Check the Starbucks app's store locator to see if your store is open. |
| For more information/ online order | https://www.starbucks.com/ |
Starbucks Happy Hour Deals?
In their Happy Hour, Starbucks offers a buy one, get one free bargain. During Starbucks® Happy Hour, you may get two of your favorites for the price of one.
As a result, clients can cheerfully purchase one handcrafted drink (grande or larger) and receive a complimentary second one (of equal or lesser value).
But What Exactly are "Handcrafted" Drinks?
All espresso-based drinks, Frappuccino Blended Beverages, seasonal drinks, iced teas, cold coffees, and yes, even Nitro are among the handcrafted beverages.
What is not in BOGO?
So, in the Buy one get one offer. The majority of drinks are covered. Only hot brewed coffee, hot tea, ready-to-drink beverages (bottled water, bottled juice, etc. ), Starbucks Reserve drinks, and alcohol are not included in Happy Hour.
Let's Take A Look At The Happy Hour Coupon At Starbucks.
Per Happy Hour, you can only use one Buy one get one coupon. But the good news is that you can order as many qualifying drinks as you want on that single order, and they will all be eligible for Buy one get one
How to Find out About Starbucks' "TODAY'S" Happy Hour?
If you are a Rewards Member, you should automatically get an email reminder or in the Starbucks app.
If you are not, do not worry; if your phone has the Starbucks app, you can receive Happy Hour alerts as well. So all you have to do is download the Starbucks app, and they will inform you when it happens, as well as place the discounts on the home screen of your app.
Or you can use the 'store locator' by visiting the website link mentioned before. You can not only locate the desired outlet but can also know the detailed timings of its drive-through hours and dine-in hours.
Conclusion.
"One is good. Two is better," says Happy Hours. That is especially true when you are receiving two for the price of one. Happy Hours genuinely makes customers happy. So go ahead and take advantage of the offer.
Starbucks never disappoints customers and the Starbucks Happy Hours never will make you regret it. We hope the information provided was beneficial.
For further information please visit their official site or app.
Hungry for More: